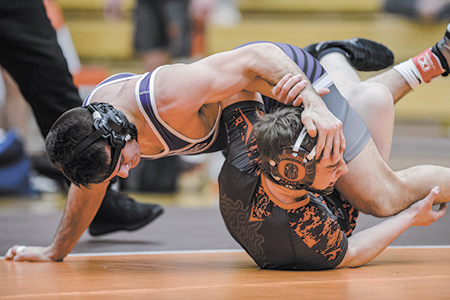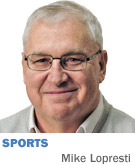 COLUMBUS, Ind.—The best high school wrestler in Indiana is moments from his match. There he is at one end of the floor, jogging back and forth to loosen up, the music of gospel rapper NF playing in his ears.
But where is Brayton Lee's headgear? Misplaced.An assistant coach is scrambling to find one. His father, Brett, stands nearby, with a deep sigh. "He's still a kid. But if that's the worst thing, then I'm OK."
Not long after, Brayton Lee has dispatched another opponent. That runs his senior season to 20-0, his high school career to 150-1, with a third consecutive state title on his mind. With all due respect to the greatness of a certain basketball star at New Albany, Romeo Langford is not the most dominant high school athlete in Indiana in 2018.
The 152-pounder who can't find his headgear might be.
"He's once in a lifetime," Darrick Snyder, his coach at Brownsburg, says. "I've coached kids who are multiple-times state champions, full rides to college, nationally ranked kids. None of them are at his level. I've never coached anyone like him."
The idea was to find a wrestler who would be an example of what it takes to excel in such a demanding sport. The sweat, the blood, the one-pizza-slice-only weekends. Why not go with the best? So … an evening with Brayton Lee:
The No. 1 ranked Brownsburg Bulldogs are at No. 13 Columbus East. Weigh-ins are completed—the moment of truth for anyone who has reached for too many brownies—and Snyder has a few moments to chat about Lee.
"He doesn't like losing and what makes him special is, he's willing to do whatever it takes to make sure he doesn't. It's how much he loves it. How much fun it is to him.
"He honestly hasn't been tested much this season. He'd be better off training in a club, but he's wrestling this year to try to help us win a state title.
"He had college coaches flying to the school, flying to his house. College coaches all the time are visiting high schools for football or basketball. I've never seen that happen in wrestling. The head coach and assistant of Nebraska were here, and I said to them, 'I can't imagine you guys doing this often.' They said, 'It's very rare. But he's very rare, too.'"
Lee chose the University of Minnesota. But before that, he has one more trip through the state tournament. "I want to win this last one," he says. "I want to dominate. I want to pin or tech fall everyone. The last one's important to me, to leave a positive impact out there."
So how did this all begin?
"My dad took me to a high school wrestling meet when I was 5," Brayton says. "I was sick and I threw up, but I wanted to stay. I wanted to watch."
Soon, he would be traveling an hour to wrestle in a youth program. One thing led to another. One win led to another. He was active in basketball, football, gymnastics—but the mat was his passion. By the time he hit high school, he had a goal: Win four state championships. Only nine have done it. But as a freshman with a 40-0 record, he made a mistake late in a semi-state match against Austin Bethel of Mount Vernon and ended up on his back—pinned with 15 seconds left.
He hasn't lost on the high school level since.
"I'm a pretty self-motivated guy. I think about that," he says. "I don't want that bad feeling ever again."
He is the very image of what a wrestler must be. Disciplined, determined, willing to do what his sport demands.
Work hard? "I'm doing something every day." Diet? "Double cheeseburgers, I try to keep out. I did have some fried chicken last night. I felt different today. I thought, 'I'm not used to eating stuff like that.' Sometimes you eat what you can and maybe go on a run. If you want the food, you'd better be ready to burn some of it off."
Willingness to handle pain? "To be successful, you've got to grow and come out of your comfort zone. You have to push yourself. Pain is a lot of this sport."
He mentions the time last year he hurt his ribs during competition and could barely bend over. Finished the match, though. The cut by his eye that eventually needed eight stitches. Finished the match, though. The gash in his head. More stitches. Finished the match, though.
Yes, Brett Lee remembers that time he took his 5-year-old son to watch wrestling. "I was holding the bag when he got sick. I said, 'Can we just leave?' He said, 'No, I want to stay.'"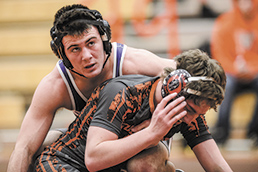 (Photo courtesy of The Republic/ Mike Wolanin )
The years ahead would bring many miles on the road for wrestling for Brett and wife Karma, but their son's enthusiasm has never waned. Not a day.
Diet, for instance. "He's so serious about his sport, he's on us about it," Brett says. "I pack his lunch every day for school. Every day." This noon, it was a turkey sandwich and a banana with peanut butter. Brett has seen his son put away the food, but then work out four times in a day to offset it. And always, the water. Seven, eight bottles. "He's a little bit different, a little quirky on that kind of stuff."
Brett tells a story about the tightknit community that is wrestling. Chad Red Jr. was a four-time state champion at New Palestine and a family friend. "That night Brayton lost, we weren't even home yet and [Red] was sitting on our doorstep waiting for him. He was at a different semi-state, he was No. 1 in the country, but instead of going out and celebrating his own semi-state championship, he was at our house, an hour away. He was going to be there for Brayton."
Lee makes quick work of his Columbus East opponent, 28-13. Later, he hops into the stands to talk with his family, and chows down a couple of hot dogs. The sectional—and the next weigh-in—are nine days away. Plenty of time to work that off.
The Bulldogs win 43-22 and head for the door. Brett Lee mentions his son is the spirit leader at Brownsburg, which means he helps organize student crowds for basketball and football. It's ironic, since there are so many reasons to cheer for him.
"I have really big goals," he says of his future. "I want to be a four-time NCAA champion."
Here's another one. The Olympics.
"He's been talking about that since he was 15," Snyder says. "When I was 15, I was trying to find a girlfriend and figure out what to do with my hair. He's talking about making the Olympic team, and he's dead serious.
"There's not another Brayton Lee out there."•
__________
Lopresti is a lifelong resident of Richmond and a graduate of Ball State University. He was a columnist for USA Today and Gannett newspapers for 31 years; he covered 34 Final Fours, 30 Super Bowls, 32 World Series and 16 Olympics. His column appears weekly. He can be reached at mjl5853@aol.com.
Please enable JavaScript to view this content.