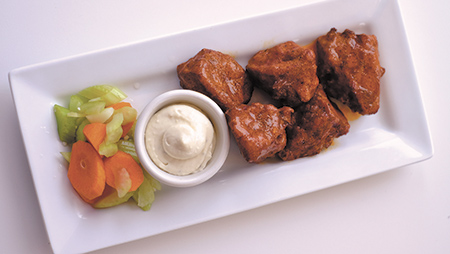 Expanding from vegetarian oasis in City Market to stand-alone restaurant in Fountain Square, Three Carrots (920 Virginia Ave., 463-221-3669) keeps its Manny-Moe-and-Jack-ish logo, its commitment to fresh ingredients, and its overall positive outlook. At the same time, it has wisely expanded its offerings while providing more seating, table service, a bar and a staff that is informative without being condescending. It's a welcome—and necessary—addition to Indy's dining scene—even for the carnivores among us.
We had a bias going in, I'll admit. Both the vegetarians and the meat eaters among us get annoyed when imitation is involved in such cuisine. You can keep your Celebration Roast, Chick'n and Tofurky. Be yourself. Stand tall. Achieve based on what you are, not by pretending to be something you aren't. After all, meatier dishes don't pretend to be tofu, carrots and kale.
I'm thankful to say Three Carrots avoids such copycatting. Instead, most of the dishes we tried satisfied on their own merits.
Early signs of positivity came from the Seitan High Fives ($9). The wheat gluten nuggets weren't faux chicken but, rather, their own creation with a set of terrific, distinctive sauces—try the Buff—and served with pickled veggies and cucumber dressing. Buffalo Mac ($14) parks the High Fives in a bowl of mac and cheese with braised greens and roasted vegetables added.
Tofu Rich Girl ($12) doesn't go too far (thank you, Hall and Oates). Instead, it offers cornmeal-crusted tofu triangles with chipotle slaw and avocado on a baguette. Unlike at lesser places, the slaw didn't seem to exist to mask what lay beneath. Instead, the flavors combined into a meaty—strike that—hearty sandwich.
However, the ratio of slaw to seitan in the Pulled Seitan ($12) was a bit off, with far too much of the latter. Table mistake: Attempting to cut the sandwich in half (a large knife was supplied, which seemed to be for that purpose), but the halves didn't hold together independently, turning the sandwich into a by-the-forkful platter. It was delicious in spite of its structural flaws. Sandwiches are served with chips and salsa or you can upgrade to fries, mashed potatoes, salad and other options.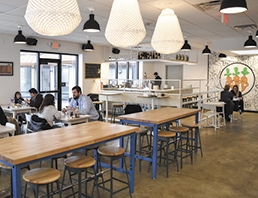 The dining room of Three Carrots includes a corner bar. (IBJ photo/Eric Learned)
Fried Tofu Tacos ($13) topped a decent amount of tofu—which held together just fine—with pickled onions, salsa and cilantro as well as guacamole and, of course, brown rice. The toppings went well together, somehow adding up to a hearty dish that still felt light—while not being something that would make me swear off carnitas or ground beef versions elsewhere.
Cauliflower Steaks ($15) topped them all, with a pair of roasted cauliflower planks served on split peas, sauteed veggies, romesco (a nut and red pepper sauce) and braised greens. Warning: This one and the Buffalo Mac are available only during dinner hours. Other offerings are available only at lunch (such as Kale Bowl and Lentil Bowl) or brunch (including Sweet Waffles—made with flaxseed, and Sweet Potato Hash).
The bright, inviting room made a great location for socializing and sharing. A mix of high- and low-top tables, plus the bar, lends itself well to those who just want to grab a drink and appetizer as well as those committing to a full meal.•
Please enable JavaScript to view this content.