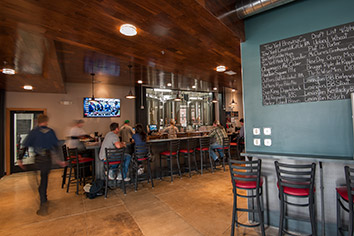 A downtown microbrewery has sought the protection of Chapter 11 bankruptcy reorganization to stave off eviction from the space it has leased the past five years.
Tow Yard Brewing LLC filed Jan. 17 to reorganize its assets after Judd Investments Two LLC, the landlord of the building at 502 S. Madison Ave. that Tow Yard occupies, sought to evict the brewery.
Judd Investments brought its emergency petition for eviction on Jan. 3, and a hearing on the petition was set for Jan. 17 in Marion Superior Court. The judge vacated the hearing once Tow Yard filed for Chapter 11.
Tow Yard's bankruptcy filing lists a $250,000 loan from BMO Harris Bank as debt and estimated assets of less than $50,000.
Michael Einterz, the Zionsville attorney representing Tow Yard's landlord, said the microbrewery's lease expires at the end of February. Negotiations that began late last year to re-sign Tow Yard had "fallen on deaf ears," Einterz said, prompting Judd Investments to seek the eviction.
"It was more pre-emptive," he said. "We kind of had to force the issue."
Judd's court petition for eviction says a new tenant is set to take possession of the property on Feb. 28, requiring Tow Yard to vacate, or be ejected, from the premises no later than Feb. 10.
Einterz, though, said Judd is still negotiating with the prospective tenant and will have a better idea in mid-February whether Tow Yard will remain or be replaced.
Tow Yard owes a small amount in overdue rent, he said.
"In the scheme of things, that's not the sole motivator," Einterz said. "That's an added fact to where we are in the circumstances of the lease."
Tow Yard signed a five-year lease on March 1, 2013, and pays $5,000 per month, according to court filings. The lease rate now is "below market" for that area of downtown and would be increased under a new agreement, Einterz said.
KC Cohen, the lawyer representing Tow Yard, said the brewery's owner, Shawn Cannon, wants to continue to operate in the building, but there's a dispute over whether the business properly exercised a five-year option that would begin at the end of February.
The contract doesn't have terms for the option, Cohen said, acknowledging that the existing lease is "way below market" rate.
Cannon also is a co-owner of the Salt on Mass restaurant at 505 Massachusetts Ave. in the Millikan on Mass apartment project.
Tow Yard is located in the former Chateau Thomas Winery building at the south end of downtown, across from the Rolls-Royce Meridian Center.
Please enable JavaScript to view this content.