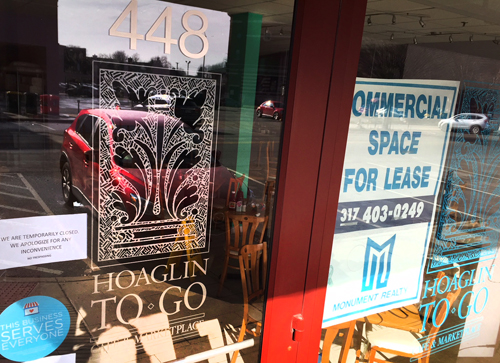 A staple of the Massachusetts Avenue dining scene has abruptly closed.
Hoaglin To Go Café & Market at 448 Massachusetts Ave. shut its doors Saturday, leaving unoccupied the space just southwest of the avenue's intersection with East Michigan Street.
A sign in the window lists the space "for lease" by Monument Realty, an affiliate of the building's owner.
Taki Sawi, owner of the Fountain Square stalwart Santorini Greek Kitchen, told IBJ on Thursday that he bought the rights to the Hoaglin name in March 2016 but later sold the assets of the Mass Ave restaurant to the operators of Lincoln Square Pancake House.
He said the owners of Lincoln Square operated in the space for about six months but never replaced the Hoaglin To Go signage. The space became available again when Lincoln Square couldn't come to terms with the building's owner on a lease, Sawi said.
Representative of Monument Realty and Lincoln Square did not immediately respond to IBJ's requests for comment on Thursday afternoon.
Sawi also operated the Hoaglin location in the CityWay YMCA but closed that location in September, he said.
Hoaglin Catering is operated separately.
Please enable JavaScript to view this content.