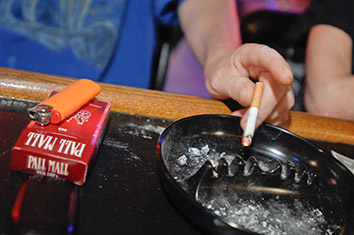 An Indiana House committee on Monday unanimously advanced a bill that would ban anyone under 21 from purchasing or possessing cigarettes.
The Public Health Committee voted 9-0 to approve the bill, which would raise the smoking age from 18. The legislation is authored by Rep. Charlie Brown, D-Gary, who called it his "swan song" as he prepares to retire from the Legislature. He said his goal is to save lives by stopping young people from smoking.
Originally, Brown's bill also raised the cigarette tax from 99 cents a pack to $2.99 a pack to fund cessation efforts. "What's more important? Revenue or a life," Brown said. "You cannot put a value on one life. That should be the uppermost in our minds as we determine what is best for Indiana."
But the committee amended the tax increase out. Supporters said they would offer the proposal again in 2019, when lawmakers work on the next two-year state budget.
The bill also raises the age for purchase and possession of e-cigarette and vapor products to 21. Amy Lane of the Indiana Smoke Free Alliance asked lawmakers to take those products out of the bill.
"We don't have an e-cigarette problem; we have a combustible cigarette product," Lane said.
Brad Baughn, a lobbyist for the Indiana Petroleum Marketers and Convenience Store Association, also opposed the bill because it "attempts to change social behavior of Hoosiers."
"This will not stop those who want to smoke, want to keep smoking," Baughn said. "It will only cause a significant decline of sales."
Indiana Chamber of Commerce President Kevin Brinegar testified in support of the bill, saying the state needs to improve its health metrics. He also said that Indiana's high smoking rates are bad for business because they increases health care costs. The Indiana Chamber estimates that Indiana employers spend $6 billion annually in health care costs and lost productivity because of smoking..
The bill now moves to the full Indiana House for possible amendments and vote.
Please enable JavaScript to view this content.