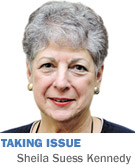 As IBJ has reported, the Indiana Department of Transportation is proposing to add lanes and rebuild bridges of the interstates that bisect (trisect?) downtown. Those interstates are 50 years old and in dire need of repair, giving Indianapolis a once-in-a-lifetime opportunity to dramatically improve a decaying and dysfunctional system.
The interstates were built at a time residents, businesses and retail establishments had all but deserted the city's center, leaving only a few neighborhoods to protest the decisions being made. (They did protest, but were ignored.) The configuration that was chosen was unfortunate; it divided neighborhoods, exacerbated public safety problems, and significantly delayed the commercial and residential redevelopment of downtown.
Thanks to the need for repairs, we have a chance to fix those problems. A thoughtful revamping can improve traffic flow, restore community connectivity and spur new economic development.
It is rare that a city gets an opportunity like this.
It is important to recognize that we will have to live for the next 50 to 60 years with whatever routing and design decisions are made now. That makes it critically important to ensure that those decisions are consistent with the city's current quality of life and transportation goals—that they enhance, rather than diminish, the progress we've made.
As IBJ reported, a group of planners, architects, landscape architects and neighborhood groups—working with the Indy Chamber, Historic Landmarks and other civic organizations—has proposed two alternatives to the plans being contemplated by INDOT. (INDOT's plans would basically keep the interstates where they are, but would add lanes and massive "buttress" walls to the existing structures.) The group is urging INDOT to study and consider those alternatives—and perhaps others—before proceeding to "lock in" the mistakes made when the highways were built.
One of the organizations involved in the effort to ensure that we take advantage of this opportunity is Historic Urban Neighborhoods of Indianapolis, or HUNI. When the interstates were built, Indianapolis had no historic districts; today, those interstates abut five such districts, and the districts have generated an enormous amount of investment. Property values in downtown neighborhoods have continued to rise due to the walkability and residential character of those districts. INDOT's plan would significantly diminish the desirability of those neighborhoods (full disclosure: I live in one).
One benefit of the alternative plans is fiscal: They would free up acreage for development, adding to Center Township's tax base. The "fix what's there and make it even bigger and more intrusive" plan INDOT is considering would do the opposite; it would reduce the assessed value of properties adjacent to or near the interstates, as well as the desirability of parts of downtown's residential and historic neighborhoods. (A set of drawings giving a visual representation of this plan is on HUNI's website; those who doubt the extent of the negative impact should take a look.)
Not only do we have an opportunity to add to the tax base, a thoughtful redesign can reduce the noise and air pollution caused by the current configuration.
These days, Indianapolis is known for its thriving downtown, for world-class amenities like the Cultural Trail, and for its robust arts community. Downtown restaurants draw both foodies and national plaudits.
We have a golden opportunity to improve on the progress our city has made in the years since we were India-no-place. We shouldn't screw this one up.•
__________
Kennedy is a professor of law and public policy at the School of Public and Environmental Affairs at IUPUI. She can be reached at skennedy@ibj.com.
Please enable JavaScript to view this content.