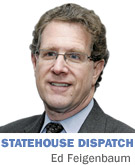 The 2018 session has proven relatively quiet for utility-related matters—a relief to many, given some of the heavy lifting required to pass some controversial measures in 2017.
The light agenda also provides breathing space for Rep. David Ober, R-Albion, chairman of the House Utilities, Energy and Telecommunications Committee. That means he doesn't have to make any tough calls on overly difficult bills before being interviewed by both a screening panel and Gov. Eric Holcomb, a Republican, to fill a seat on the Indiana Utility Regulatory Commission. It's a post most insiders expect him to win, and they think he will also be named the IURC's new chairman.
Ober wasn't even 30 years old when he was tabbed last year by House Speaker Brian Bosma, R-Indianapolis, to lead the utilities committee, and his ascension caused some gasps in the gallery. After all, he had not only never chaired a committee, but he also hadn't even served on that panel.
However, Ober quickly asserted himself and established new mores endearing him to consumer advocates. Key among them: He would effectively not limit testimony or discussion on matters of high public interest, a contrast to many of his fellow committee chairs. As a result, Ober chaired some hearings that lasted many hours—leading to jokes that only a committee chair with a 20-something bladder could get away with that.
His attention to process and fairness earned him admiration even among those unhappy with the result. They knew the panel, House and General Assembly were more likely to side with industry on the major issues, but they were satisfied with being empowered to fairly make their case and be heard by both lawmakers and the public through media coverage of the marathon hearings.
Ober's droll sense of humor attracted legions of Twitter followers, although he abruptly dropped his engaging feed about the same time last fall that he became engaged to be married. 
But Ober isn't destined to remain a lawmaker. He's asked the IURC Nominating Committee (four former legislators are among its seven members) for its consideration to fill the IURC vacancy. The group will interview the seven applicants and forward three finalists to Gov. Holcomb for his selection. 
The committee has a long history of including former legislators among the five commissioners. Indeed, the current opening is a seat vacated by a former House member. You often see a pair of former legislators serving as commissioners, and today there are none.
The permanent gubernatorially designated post of IURC chair is also empty, and history shows a litany of sitting solons named chair: Sen. Les Duvall, R-Indianapolis, by Republican Gov. Bob Orr in 1985; Sen. Jim Monk, D-Terre Haute, by Democratic Gov. Evan Bayh in 1989; and Sen. Bill McCarty, D-Anderson, by Democratic Gov. Frank O'Bannon in 1997.
Former Rep. Jim Atterholt, R-Indianapolis, was asked to serve as chair during separate appointments by Republican Gov. Mitch Daniels in 2010 and Holcomb last year.
Ober is forgoing re-election, and he eyes the regulatory post as the focus shifts from traditional utilities and their legacy problems to dilemmas of concern to Ober's generation: renewable energy (and balancing concerns on siting solar fields and wind farms), deregulation, and issues at the intersection of the internet and telecommunications such as the internet of things. 
In the short term, commissioners will assess the new federal tax law's impact on utility rates of return and how much tax savings ratepayers deserve. That becomes not just a technical discussion, but a balance of public policy and political interests of the type Ober has been overseeing.
Ober is a founder of Indiana's Millennial Caucus, which addresses future issues—largely technological or philosophical—from a nonpartisan basis. He is poised to do the same soon, at the executive level.•
__________
Feigenbaum publishes Indiana Legislative Insight for Hannah News Service. He can be reached at EDF@hannah-in.com.
Please enable JavaScript to view this content.