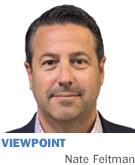 Dear Mr. Bezos:
On behalf of the Indianapolis metro area and the state of Indiana, we are thrilled to be included in your list of the 20 finalists for Amazon's second U.S. headquarters (HQ2). Of course, we believe strongly that the Indy metro area would be the wisest choice for your $5 billion campus and eventual 50,000 new employees.
Because Amazon already employs 9,000 Hoosiers in warehouse and logistics roles in Indianapolis, Whitestown, Plainfield and Jeffersonville, your company is well aware of Indiana's favorable business climate, its low cost of living for your workers, and the world-class public and private universities from which you can recruit your new Hoosier employees.
As secretary of commerce under former Gov. Mitch Daniels, the governor and I worked with your company to locate your initial fulfillment centers in Indiana. Then, as now, we were in competition with other states for your job-creating investments. We were thrilled that you chose Indiana over many other states and did so multiple times. As we worked with your colleagues, they touted Indiana's business-friendly environment and local talent pool as key reasons for choosing to invest in Indiana. I took note that your colleagues did not mention incentives as the reason for your company's decision.
No doubt in the coming weeks and months, those states and cities that have made the final list will tout similar positive traits. And clearly, many, if not all, will offer Amazon large incentive packages, possibly in the billions of dollars. My bet is that cities and states with high taxes will offer the biggest incentives to try to make up for their dismal business environment.
Some cities will tout their year-round warm climate, their ability to attract millennials, their thriving music scene and other "coolness" factors. But I offer to you, Mr. Bezos, that the Hoosier state and central Indiana have a few traits and traditions that set us apart from the others on your list. Those traits and traditions can help ensure Amazon's continued growth and success by giving it a competitive advantage—especially after the short-term economic incentives lapse.
Space doesn't allow me to list all our advantages here, so I'll focus first on our tradition of good and innovative government at both the city and state level and then follow up over the next couple of months with the others.
Indianapolis has benefited from the foresight of former Mayor Richard Lugar, who understood that eliminating layer upon layer of government would bring efficiencies to our city that would help its residents. Lugar unified Indianapolis and Marion County governments under a plan dubbed Unigov in 1970, ultimately aiding the economic growth of the city by consolidating public services, eliminating redundancies and expanding the city's geographic borders, which added 270,000 residents and increased the Indianapolis tax base.
Years later, a young man who worked for Lugar would run for governor and bring similar innovative ideas to the entire state—my former boss, Mitch Daniels, now president of Purdue University. Daniels, who earned the nickname "The Blade" as budget director for President George W. Bush, brought his blade back to Indiana in 2005 and erased a budget deficit in no time by making common-sense and innovative moves. The result was a $2 billion surplus, the majority of which we still enjoy, earning and retaining a AAA credit rating for the state.
Taking a page out of Lugar's book, Daniels reduced the number of government employees while increasing the quality and speed of government services. Daniels' successors, former Gov. Mike Pence and Gov. Eric Holcomb, by and large have followed Daniels' model of frugality and focus on good government. In fact, largely because of our fiscal stability, Indiana is ranked No. 1 for the quality of its state government administrative functions by U.S. News & World Report.
Governments that run efficiently and frugally have more money to invest in education, health care, infrastructure, worker training and amenities that lure talented people. Inefficient governments often resort to raising taxes and raising regulatory burdens, thus raising the cost of doing business in their cities and states.
Mr. Bezos, based on our history and trajectory, it's a pretty good bet that Indiana will continue on the path of good and innovative government, allowing your company to operate more efficiently here, thus allowing you to hire more talented colleagues and make more investments in your company. Hoosiers have come to count on it and so can you.•
__________
Feltman, an attorney and former secretary of commerce for the state of Indiana, is a shareholder in IBJ Corp., which owns Indianapolis Business Journal. To comment on this column, send email to nfeltman@ibj.com.
Please enable JavaScript to view this content.