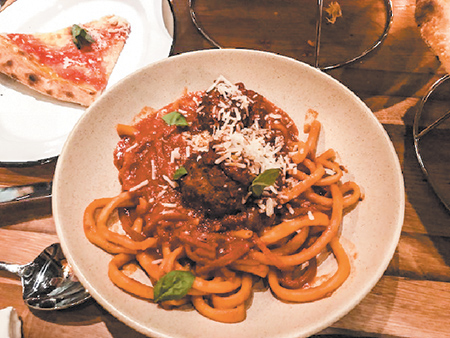 Thank you, Greg Hardesty.
To be clear, Hardesty, the chef behind the late, lamented Recess and now consulting at Spoke & Steele, isn't the guy in the kitchen at Bridges Craft Pizza & Wine Bar (19 N. Indiana St., Greencastle, 765-653-0021). He's not really affiliated with the new eatery.
But he's the one who pointed me in its direction, thanks to a post on his Facebook page.
"Amidst all the closings here in Indy, there is a place in Greencastle … making the most inspired and polished food in Indiana," he wrote. "I've got the feeling James Beard is going to come calling. It's that good."
Within an hour of reading his post, I had rounded up a dining posse and was headed west on Interstate 70 to the land of DePauw University. A few hours later, we returned to Indy looking forward to the leftovers and anticipating another road trip soon.
Yes, Greg, it's really good.
Bridges is the brainchild of Joyce and Judson Green, the philanthropists who established their namesake Center for the Performing Arts at DePauw and created the town's community space Music on the Square, providing lessons and performances downtown. When the storefront next door became available, they snatched it up without an idea of what they were going to do with it.
A wine bar? OK. How about adding a wood-burning pizza oven from Italy—even if the back wall had to be knocked out to get it inside? Sure. An open terrace on the roof? A wine cellar for private dining and events? A couple of rental apartments in between? Voila. Transformation.
For an executive chef, they recruited Sal Fernandez, a Napa, California, native with a military background who trained under Top Chef's Rogelio Garcia. His menu is focused, accessible, and, in our experience, spot-on Italian fare.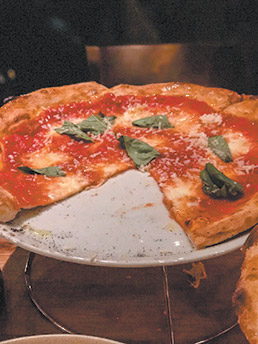 Margherita Pizza shows off its crust
. (Photo courtesy of Jonah Harry)
Pizza, of course, is mandatory here. But the menu includes just six variations, indicating an emphasis on quality over something-for-everyone marketing. Our waiter informed us that Chef is particularly happy with the way the simple Margherita ($14) shows off his crust. He was right. The mozzarella, basil and delicate Pomodoro sauce aren't piled high. They're, instead, supporting players in a terrific production. A bit more elaborate but no less excellent, the Florentine ($15) features garlic puree, ricotta, mozzarella, greens and artichokes. My only complaint was the inability of the center of the bottom crust to sustain the not-terribly-heavy load above. It is that same crust, though, that sings.
I would happily make a meal out of the dough alone, accompanied by the sauce that helped elevate the Spaghetti and Meatballs ($18). Not your usual roll-on-the-fork strands of pasta, here the staple dish involves Buccatini noodles, identified by the hole running through the center. A bit thicker than standard spaghetti, it holds more sauce—and creates slightly greater risk to your shirt.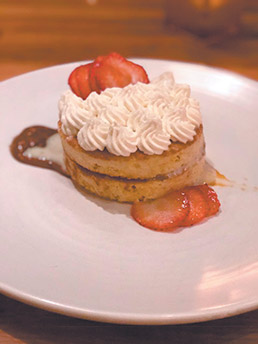 Quattro Leches Cake provides a multi-layered conclusion.
(Photos courtesy of Jonah Harry)
Appetizers and dessert were equally memorable. Oxtail Corn Cakes ($10) offered tamale-like density with a twist provided by tomato relish and lemon crema. Zaring Farms Winter Salad ($9) filled a sliced acorn squash with roasted carrots, frisee, almonds and ricotta salata with an almost-hidden butternut squash vinaigrette. I was disappointed that the kitchen was out of the Curried Seafood Chowder (although our waiter said the chef would be happy to make a non-curried variation. I opted to wait until next time). And just trust me and say yes to the Quatro Leches Cake ($7).
Along with an extensive collection of bottles, the bar features eight wines on tap, covering the categories from rose—Sabine Coteaux d'Aix, Provence, France, 2016 ($7/$27)—to pinot noir, California 2015–Angeline ($12-$48). The draft beer lineup focuses entirely on the home state. And a lineup of "elixirs" demonstrates the bar's adventures in craft cocktails.•
Please enable JavaScript to view this content.