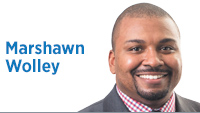 Indiana is a dangerous place to live if you are a black male. We need to have a full community discussion about this fact.
Indiana held the dubious distinction of leading the nation in 2013 and then ranking second in 2014 (the latest year for which stats are available) in the number of black-male homicides in the country, according to reports by The Indianapolis Star. In 2012, the year we hosted a Super Bowl, there were 213 black-male homicides in Indiana, which ranked it sixth-highest for such crimes.
We were out of the top 10 for black-male homicides only once in 11 years—that was in 2011, when we fell to 11th place. Indianapolis continues to be the major driver in the state earning this macabre distinction.
But I want to move beyond the numbers because they aren't the story that needs to be told. It seems we've gotten used to the ritual of black-male deaths.
The vast majority of my friends who were murdered died in anonymity. There was no news coverage. But, when there is news coverage, I expect to see a mug shot—regardless of whether the victim was involved in criminal activity at the time of his death. In fact, local news stations seem to have a penchant for finding mug shots of black men—so much so that it can be all you see of us on the news. I am not a mug shot. Local news stations need to stop this ritual shaming of the dead.
There is also mental suffering, yet the practice of having access to grief counseling is not a foregone conclusion when black males die young. Teenage minds are often left to wrestle in schools throughout Marion County with the cold suddenness and finality of death. The absence of support—forcing young people to just deal with it—is another ritual that needs to stop.
And a homicide doesn't affect just the victim. It ripples through an entire community. You can see it in the vigils, where stuffed animals, ribbons, crosses or other tokens mark where friends gathered, pastors lamented the loss of a soul, and people who know the victim through social networks or attempts to intervene or mentor are left to bear witness to the spot where the hopes and dreams for yet another black male died.
And, too often, there's no justice. Quite often, people know who killed someone—but no one talks. It is hard to prosecute a case without a witness. A just-announced witness-protection program is welcomed, but the fact that elected officials have only recently been able to scrounge up funds for one is troubling. How long has this been a problem? How many lives might have been saved had someone bothered to act?
Tears for black-male homicides are not silent—they just don't seem to be heard.
The most disturbing reality the black community knows is that white males wouldn't die in Indiana or Indianapolis like black males have for at least a decade, because, once the violence started, the community would've done something. Government, not-for-profits, businesses would have acted.
We need a community-wide conversation that pulls all sectors together to address black-male homicides. It's easier to act like homicides, or gun violence, are the problem than to admit this city systemically fails black males.•
Click here for more Forefront columns.
__________
Wolley is a lecturer at the School of Public and Environmental Affairs at IUPUI.Send comments to ibjedit@ibj.com.

Please enable JavaScript to view this content.