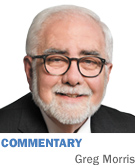 It's February and the real estate market is already heating up for the new year. I'm not sure it ever slowed down.
Even if you've only purchased a home for you and your family to live in, you're a real estate investor. But what if you want to move past just owning the house you live in? You've seen great wealth created by others who've smartly invested in land and investment properties over the years and you wonder whether you can do the same. You've watched every episode of "Good Bones" (based here in Indianapolis), "Property Brothers," "Fixer Upper," "Flip or Flop," "Home Town," "Rehab Addict" or any of many similar shows on HGTV, DIY Network and the like.
Maybe you've thought, "I can do this." You've calculated that you can perform a lot of the labor yourself and save big money in the process. Or, you'll have to hire the labor, but you've got the vision and marketing skills to make up some of the extra dollars spent in that area. Maybe you're so proud of your transformed properties, you don't want to sell them. Now you're in the rental business. There are a lot of different paths to success in real estate investing.
However, a lot of things can trip you up as well. How do you avoid the pitfalls? How do you get started without "betting the ranch"? How can you keep your day job and give it a try part time? How do you work toward giving up your day job and make real estate investing your full-time endeavor? How do you learn from others who have already been successful in this business? Other than these types of TV shows, how many other ways are there to get involved in real estate investing? How can you give yourself the greatest chance for success in this business?
I'm glad you asked! My answer to the last question is, you've got to thoroughly do your research and educate yourself. You've got to find credible information to help you along the way. I might suggest that one part of your research include investigating the Central Indiana Real Estate Investors Association, or CIREIA.
Who is CIREIA? It's a not-for-profit offering networking and educational opportunities for local real estate investors, including landlords, property managers, flippers, rehabbers, the buyers and sellers of notes, land contract holders, and providers of services to investors. That includes real estate agents, insurance agents, lenders, attorneys, accountants and contractors, among others.
I've known this organization going back 15 years or longer through IBJ's sister publication, Court & Commercial Record, where foreclosures and sheriff's sales are published. Both are of interest to many real estate investors. CIREIA has been around 30 years and went through a rough patch during and immediately following the Great Recession, but it's come back stronger than ever and has done especially well the last couple of years.
When investing your hard-earned money, it gets down to whom you can trust. CIREIA President Ron Watson has a lot to say about the importance of doing things the right way and adhering to a code of ethics as you work your business plan. It's not just about chasing the money. CIREIA has a wealth of information, whether you're a newbie or a seasoned professional.
As for those HGTV-type shows I mentioned earlier, while that's what a lot of people picture as the way to get involved in real estate investing, Watson says you'll be exposed to many other options when you network and educate yourself at CIERIA events.
The executive director of CIREIA is Vickie Perry. She's a hard-charger and is helping the organization achieve many of its aggressive goals. When Perry took her position in December 2015, there were 180 members; today, there are 650. She told me she won't rest until they hit 1,000.
Perry said an important CIREIA goal is to reach current and potential real estate investors before they make too many mistakes and get discouraged. To that end, CIREIA has a radio show debuting Feb. 18 on WFMS-FM 95.5 and WXLW-AM 950, "Real Talk, investing done the right way."
So, if you want to sharpen your real estate investing skills, check out CIREIA at cireia.org or email Perry at executivedirector@cireia.org.•
__________
Morris is publisher of IBJ. His column appears every other week. To comment on this column, send email to gmorris@ibj.com.
Please enable JavaScript to view this content.