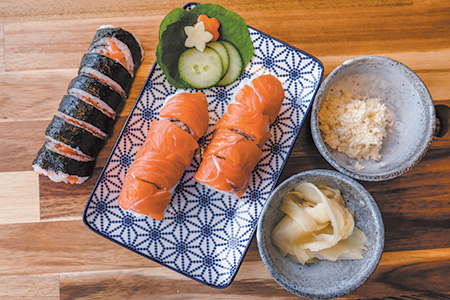 Futomaki. Kappo. Wakame. Zosui.
For some foodies, these culinary terms might be second nature. But I'm guessing many a Hoosier would have to resort to Google—or ask a patient waiter a string of questions—to get an idea of what they will find on their shared plates at Ukiyo (4907 N. College Ave., 317-384-1048). And those discoveries—impeccably handled by the kitchen—should be a draw, not a barrier, to trying the latest eatery from Neal Brown Hospitality.
The newcomer from the man behind Stella, Libertine and Pizzology takes over the spot that formally housed Recess and Room Four. Structurally, it's still basically the same, with the small main dining room to the right of the entrance, a narrow side room to the left, some seating in the middle, and a bar area in between. We nabbed an early reservation, walked into emptiness, and left through a bustling crowd.
The anchor here is sushi, divided into Futomaki Rolls (made with nori on the outside) and Designer Rolls, which are a bit more elaborate with rice on the outside. The kitchen will also make custom rolls if the ingredients you request are in stock. We stuck with the menu, digging into a Spicy King Salmon roll ($7) with daikon and a mild kick that didn't overwhelm the salmon. It was plated with our designer choice, the Uke Mochi ($19) with crab, avocado, salmon, and shoyu butter, which is made with soy sauce. In both cases, the quality of the seafood made a difference. Let others use the sushi excuse to mask inferior ingredients. Bonus: Ukiyo shops from sustainable sources.
Traditionally, kappo-style means a restaurant's kitchen processes are visible (check) and meals are presented in courses (check). It also defines an approach that goes beyond sushi (check) and pays close attention to the seasonality of food (check).
Ukiyo's Kappo menu features small plates that show up at your table when they are ready. Ours included Miso Soup ($5) that, with pumpkin, wakame (a seaweed) and enoki (a mushroom) far and away surpassed the basic version often tacked onto a Japanese restaurant combo order. Roasted Purple Yam ($9) may rank among the most unattractive vegetable plates in the region, but, with miso, persimmon and katsuobushi (fermented tuna that was unnoticed), it had a unique and pleasantly mushy taste. Just close your eyes.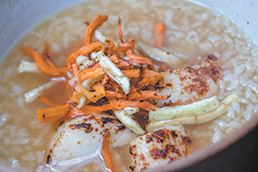 Less common dishes include Zosui, a rice soup with scallops and dried vegetables. (IBJ photo/Eric Learned)
Zosui ($12), a rice soup accentuated here with scallop and dried vegetables, proved the most divisive of the dishes shared at our table while the most universally praised was the Chicken Karaage ($12), crafted with local honeycomb and matcha—a ground powder from green tea leaves that's all the rage elsewhere. Make this one mandatory.
Of the two sweets offered for dessert, we put our spoons into the White Chocolate Barley Pudding ($7), which looked at first like just a bowl of Rice Krispies. The puffed rice that topped it, however, gave texture to a smooth pudding adorned with sesame caramel.
While our server was knowledgeable, friendly and gracious, there was a bit of a lag in having finished dishes cleared from our table. In a parade-of-food place such as this, that's a detail that could be better managed. And I'm not sure Led Zeppelin (or what sounded like the band) was the best musical choice for the environment. But those are minor quibbles in an otherwise positive experience.
Now I just have to figure out when I can get there for lunch. Ukiyo converts to a ramen house Tuesday through Saturday.
Side note: I'm still amazed at the number of self-proclaimed adventurous diners in Indy who don't set foot in Indy's International Marketplace area (aka Lafayette Square). By all means, visit Ukiyo and other creative spots supervised by Indy's high-profile personalities. But there's also a big world of wonders awaiting on and around West 38th Street.•
—Lou Harry
Please enable JavaScript to view this content.