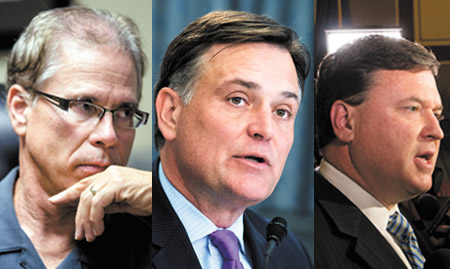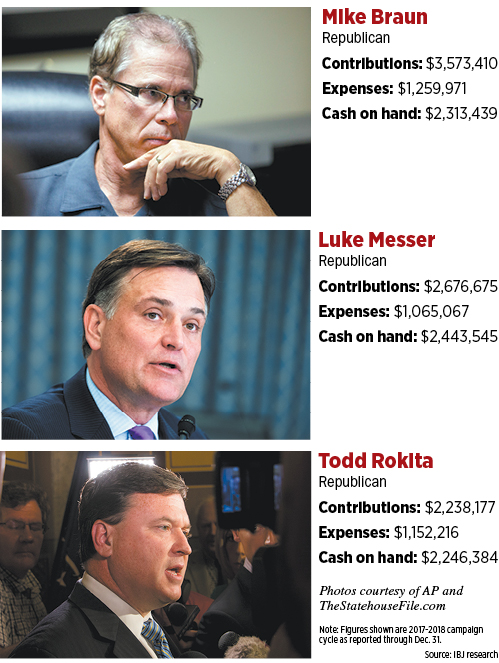 It's going to be ugly and expensive.
That's the message political experts are sharing about the Republican primary that will decide who will challenge Democratic U.S. Sen. Joe Donnelly in the fall.
All three GOP front-runners are in—U.S. Rep. Todd Rokita, U.S. Rep. Luke Messer and former state Rep. Mike Braun, a multimillionaire businessman—while three other hopeful candidates did not obtain enough signatures to be on the ballot for the May 8 primary.
Experts aren't surprised none of the front-runners backed out, even though it required all of them to abandon what would have been easy re-election bids for their current offices. Political observers say they expect the three men to fight hard for a chance to oust Donnelly—and that means the campaigns will quickly become costly.
Outside money is expected to pour into the state as political ads take over the airwaves until November. So far, about $4.3 million has been spent by opposition groups—although the conservative group Americans for Prosperity announced Feb. 13 it plans to spend $2 million to attack Donnelly.
Through Dec. 31, Donnelly and GOP candidates had spent about $6.6 million. And the race is already considered the eighth-most-expensive Senate race in the country.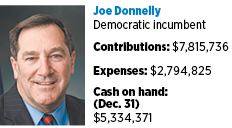 "If you are a Republican, this is a golden opportunity for a very competitive Senate race," said Bob Dion, political science professor and chairman of the Department of Law, Politics and Society at the University of Evansville. "It's something that doesn't come along very often."
Donnelly is finishing his first term in the Senate seat, considered one of the most vulnerable in the country because Indiana is known for leaning heavily Republican, and President Donald Trump won Indiana by 20 percentage points in 2016.
The Cook Political Report has the race listed as one of only four Democrat-held seats considered a toss-up. Politico, CNN, The Washington Post and CBS News all list it as one of the top races to watch.
Democrats hope a bloody battle in the GOP primary could help them hold onto the seat. But others say that, with three viable candidates, Republicans are in a strong position no matter who wins.
Donnelly is not facing any primary challengers.
Most expensive?
Donnelly continues to have the largest war chest ready for the election—he recorded $5.3 million in his account at the start of the year.
He raised $1.1 million in the fourth quarter, bringing his total campaign contributions to $7.85 million for the current election cycle. He spent $490,000 in the fourth quarter, and his total expenses for the campaign have hit $2.8 million.
Messer and Rokita are nearly tied in their fundraising efforts. Messer started this year with $2.44 million on hand, while Rokita entered 2018 with $2.43 million.
During the last quarter of 2017, Messer raised $420,000, and Rokita collected $457,000. In the same period, Messer spent $388,000, while Rokita spent $372,000.
Braun is slightly behind, with $2.3 million on hand, but he has supplied nearly all of his own funding. He has loaned his campaign a total of $3.2 million.
And Braun has far out-spent the other candidates in the fourth quarter, reporting $1.1 million in expenses. Braun raised $166,145 during that same time.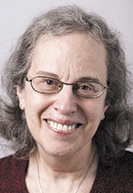 Hershey
Marjorie Hershey, a political science professor at Indiana University, said as long as it's a close race, you can expect the Republican candidates to spend down their war chests.
"If you don't win the primary, it doesn't really matter how much money you have," Hershey said. "It's the primary or nothing."
Outside spending started months ago. Groups on both sides of the race have spent a total of $4.3 million, and that will keep growing. Hershey said the anti-Donnelly efforts will continue to spread as those groups try to catch voters before they form an opinion of the sitting senator.
"You don't want to start too early, but the time has come," she said.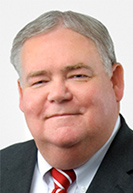 McDaniel
First up is Americans for Prosperity, a political group backed by billionaires Charles and David Koch, which announced it will spend a total of $4 million to run ads against Donnelly and Missouri Sen. Claire McCaskill for voting against Trump's tax overhaul.
"And then it will just explode," former Indiana State Republican Chairman Mike McDaniel said. "I see this being the most expensive Senate campaign ever in Indiana."
Some experts think the campaign will hit $100 million, but others' estimates are lower.
"I wouldn't be surprised if it got up to $50 million or more, and that's a lot for Indiana," Hershey said.
During Donnelly's 2012 election, when he defeated former Indiana Treasurer Richard Mourdock, the candidates and outside groups spent a total of $56.2 million.
Mourdock defeated Sen. Richard Lugar in the primary that year.
The 2012 race ranked as the seventh-most-expensive Senate race in the country, according to the Center for Responsive Politics.
In 2016, when then-Republican U.S. Rep. Todd Young defeated Democrat Evan Bayh, the candidates and outside groups spent a total of $81 million. That race also ranked seventh-highest in the country.
Hershey said left-leaning groups should have enough funding this year to start campaigning during the primary, but they would need to decide which Republican to target.
Most of the anti-Republican campaigning is expected to come after the primary, when spending from both political parties will be high. Democrats are trying to hold on to every seat they have in Congress, and Republicans are hoping to push a few in their direction.
"They're likely to pull out all the stops," Dion said of the Democratic Party.
"Unless it looks like Donnelly is a goner at some point," he said. "At times like that, you'll see the party pull out and stop spending. … But I see this going to November."
Negative in a hurry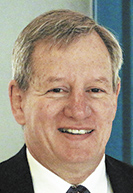 Murphy
Former Republican state Rep. Mike Murphy said he'd like to see the candidates debate issues during the campaign, but that's not what he thinks will actually happen.
Instead, he expects it will be a "race to the bottom" in negative attacks.
"Maybe I'll be wrong," Murphy said. "Maybe they really will have issue-oriented discussions, but it doesn't look like it."
McDaniel said it's unfortunate that the campaigns will likely be highly negative, but that is what gets voters' attention.
Hershey said research has shown that negative ads have more impact than positive ones.
"We just aren't going to see a whole lot of positive ads this year," she said.
Dion described Rokita, Messer and Braun as being close to "mirror images of each other" politically, which makes it difficult for each to distinguish himself.

"More often than not, your views are similar to the other candidates'," Dion said of primary races.
"And sometimes that means things take a turn for the negative."
Hershey agreed that "there isn't a lot of daylight between Rokita and Messer," which means the campaign will come down to factors like personal qualities.
So far, the negativity has mostly been between Messer and Rokita, but experts say that's because Braun has been focused on improving his name recognition throughout the state.
"He's got more ground to make up," Dion said.
McDaniel said he's had people ask him about Braun—a sign that the candidate is making progress.
"He's run some pretty good spots getting himself introduced to Hoosiers," McDaniel said. "It's hard to get the public's attention this far out of the election."
So what Republican candidate would be the best match-up with Donnelly? Tough to say, given their conservative similarities.
"All three of them could be credible Senate candidates," Dion said.
Murphy said each has different traits that could generate an interesting race against Donnelly, and the general election could be influenced by a variety of other factors, like the stock market and Trump's approval rating at the time.
"That's why we have races," he said. "Who would have thought Evan Bayh would have lost to Todd Young in 2016? But he did. That's what makes it fun."
Hershey said Messer—a former state party chairman who is backed by establishment Republicans—would provide the best match-up, because he carries less baggage, but she said it wouldn't make a significant difference.
And while the Republicans hash it out in the primary, Donnelly will likely avoid attacking the candidates.
"There's no need to insert yourself into that if your potential opponents are criticizing one another," Dion said.
But he probably won't stay quiet. McDaniel said he expects Donnelly to run ads portraying himself as above the GOP fray and defending his record.
Dion said Donnelly should focus on promoting what he's already doing in Congress.
"Doing what people want is a way to get people to vote to support you," Dion said. "His best move right now is to demonstrate the kind of public servant he is."
Hershey said if the volume of ads is high enough, Donnelly will have to respond.
"Politicians learned a long time ago that it doesn't make sense to ignore negative attacks," Hershey said.
"If you're attacked, you have to fight back," she said. "The question is, how much does the Donnelly campaign want to spend before the actual race?"•
Please enable JavaScript to view this content.