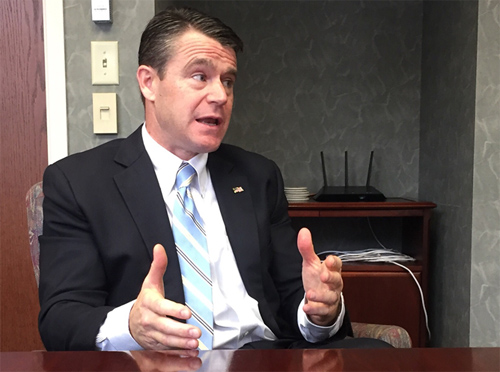 Republican Sen. Todd Young's campaign reported Wednesday that he raised a record $1.6 million in the third quarter and has $5.6 million cash on hand.
The campaign said the amount was the largest raised in the third quarter during the off-year of a U.S. Senate campaign by an Indiana candidate. The record was previously held by former U.S. Sen. Joe Donnelly, a Democrat who raised $1.4 million in an off-year quarter in 2017.
Young also broke a record during the second quarter when he reported a total of $2 million raised.
The $1.6 million comes from more than 10,000 donations, with 93% of those less than $100, according to Young's campaign.
"I am incredibly grateful for the support from so many Hoosiers," Young said in a written statement. "The fight has just begun, as President Joe Biden and the far-left seek an ally who will advance his liberal agenda, ignore the southern border crisis and push through a reckless $3.5 trillion tax and spending spree."
On the Democratic side of the Senate race, Hammond Mayor Thomas McDermott leads the Democratic field with $82,130 raised. Democratic candidate Haneefah Khaaliq has raised $29,314 and Valerie McCray has $2,684.
The only other Republican candidate running for the seat so far, Danny Niederberger, has raised $2,150.
Please enable JavaScript to view this content.