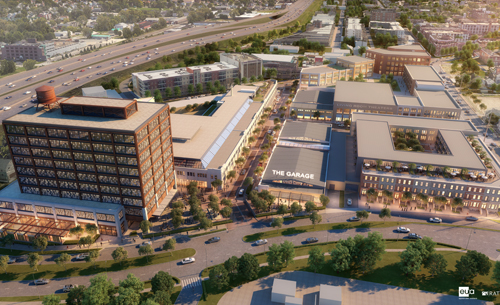 A state Senate bill that aims to provide additional alcohol permits to a handful of municipalities thirsty for more of the licenses contains a surprise addition that's neither a city nor a town.
Senate Bill 46 passed the full Senate 40-8 early in the month and on Feb. 12 was referred to the House Committee on Public Policy. Standing to benefit from the legislation are Greenwood, Bargersville and Martinsville, all south of Indianapolis, as well as Munster in northwestern Indiana.
But supporters of the bill also have slipped downtown's Bottleworks project into the legislation in order to support a unique aspect of the $260 million mixed-use development—a 30,000-square-foot food hall with about 20 vendors.
Many of those likely will want to sell alcohol, but privately sold permits can be expensive, costing up to $100,000. The state would charge $40,000 for each permit that would become available from the Senate bill.
Local officials say the permits are needed to accommodate development that's been stymied under a state system that allocates permits based on population, as measured by a census that's normally conducted every decade.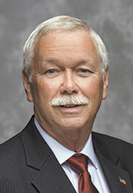 Sandlin
The lag is especially problematic for fast-growing communities. When a community hits its cap, the only way a business can obtain a permit is to purchase an existing one from a current permit-holder.
It's an issue legislators are beginning to confront more often, as growing cities and towns with no alcohol permits turn to the General Assembly for relief instead of waiting until the next census.
"I think the underlying issue is going to be, how can we start addressing this without the Legislature coming back every couple of years?" said Sen. Jack Sandlin, R-Indianapolis, and one of the authors of the Senate bill. "It's really difficult when a city is trying to bring new businesses in."
While Indianapolis' population isn't swelling like those in fast-growing suburbs, city officials are backing the legislation to help remove impediments to the massive Bottleworks project's success.
Wisconsin-based Hendricks Commercial Properties is the developer of the project, which will restore large parts of the former Coca-Cola bottling plant at College and Massachusetts avenues. Plans call for apartments, condos, office space, a cinema and other attractions spread across 1.2 million square feet.
Jeff Bennett, the city's deputy mayor of community development, wrote a letter to Sandlin asking Bottleworks to be included in the bill.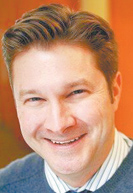 Bennett
"Redevelopment of the former Coca-Cola bottling plant represents the culmination of 25 years of work to revitalize the Massachusetts Avenue corridor in downtown Indianapolis," Bennett said in the letter. "It's a concrete example of a once-in-a-generation opportunity to rehabilitate an iconic campus of historic buildings, remediate and repurpose a brownfield site, and rebuild our urban tax base."
Vendors in the food hall would operate under a single permit, so they wouldn't have to buy them separately, and would have a management agreement with the permit holder. An additional five permits would be available throughout the rest of the complex.
The Senate bill also allocates five permits for Bargersville, five for Martinsville and 10 permits each for two economic development districts in Greenwood.
State lawmakers in 2016 tackled a similar problem, when they passed legislation granting additional alcohol permits to suburban communities in Hamilton and Boone counties.
Carmel, Fishers and Westfield in Hamilton and Lebanon, Whitestown and Zionsville in Boone received four alcohol permits each.
The permits are known as three-way licenses because they cover the sale of beer, wine and liquor.
Fast-growing Whitestown has two of its four permits left. But with two large retail projects in the works, town officials chose to go on the offensive and conduct a special census in 2016, at a cost of $175,000, to secure more permits. The town's population grew from 2,830 in 2010 to 7,800 in 2016, Town Manager Dax Norton said.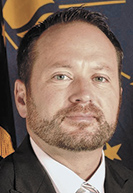 Norton
Even so, the three permits Whitestown received as a result of the special census already have been sold via auction. Prices were far less than on the open market, in at least one case less than $5,000.
Whitestown officials say they have at least 15 restaurants in the wings that want permits before they'll commit to coming to the town. It's a problem that's likely to get worse as residential development continues apace in the Anson development off Interstate 65.
Town officials are mulling their options.
"You could essentially shut down a $150 million retail development because there are no liquor licenses available," Norton said.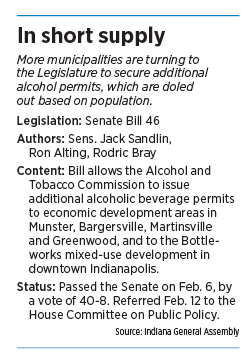 The project Norton is referring to could include nearly 1 million square feet of higher-end retail and would be developed by locally based Gershman Partners along I-65 near Duke Realty Corp.'s portion of Anson.
Gershman has under contract land east of I-65 at County Road 550 South, where a new interchange will be built.
Also in Anson, Greenville, South Carolina-based RealtyLink LLC plans to construct the $50 million Shoppes at Whitestown on 33 acres north of Perry Worth Road and south of Central Boulevard, to the west of Main Street. That development could open in the fall.
The RealtyLink project would include about 275,000 square feet of retail space split among 19 tenants ranging in size from 2,500 square feet to 55,000 square feet.
Norton said one way to solve the permit shortage would be to dole out additional permits annually to communities experiencing annual population growth of 5 percent or more.
The state legislation restricts use of the permits designated economic development or redevelopment districts.
In Greenwood, the two districts encompass its downtown, where plans are under way to reinvigorate the city's core, and the area along State Road 135 from Stones Crossing Road south to Whiteland Road.
Greenwood Mayor Mark Myers is unsure how much Greenwood has grown since 2010, because the city chose not to follow the path of Whitestown and pay for a special census.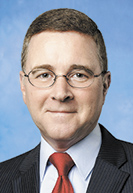 Myers
Greenwood wants to create a commercial and residential hub in the area known as Old Town, the city's core—mostly contained to the intersection of South Madison Avenue and West Main Street—by adding 450 apartments and 130 town homes within 10 years.
"A lot of these major restaurant owners depend on alcohol," Myers said.
"They're not even going to consider building until they know there are permits available."
Greenwood has no more alcohol permits available, not even on the open market, he said.
Besides Sandlin, Sens. Ron Alting, R-Lafayette, and Rodric Bray, R-Martinsville, are authors of the bill.•
 
Please enable JavaScript to view this content.