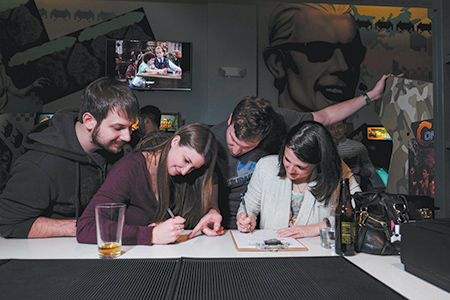 General-knowledge bar trivia had never been a draw for 28-year-old Breonna Anderson. Then she saw a Facebook post promoting a "Friends"-themed trivia night at a local pub and, before she knew it, she and a group of seven friends had formed the I Hate Rachel Green Club, one of 18 teams to enter the trivia contest.
Anderson and her teammates drew the name from a line on the show, as did most of the other super-fan competitors who filled downtown's Claddagh Irish Pub on a Tuesday night. To these true loyalists, names like Princess Consuela Banana-Hammock, We Were On A Break, Pivot!, How You Doin', and The Regina Phalanges need no explanation. Indeed, at least two team names were also the answers to trivia questions, and three groups shared their names with trivia-night drink specials.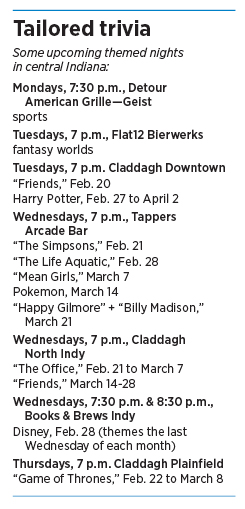 "We all love the show 'Friends,' so we decided to come out," Anderson said amid the celebratory hoots and hollers following a scoring update. "We've all played trivia before individually, but it's usually just general trivia, which I am terrible at."
Claddagh General Manager Emma Reinhardt was pleasantly surprised by the turnout for "Friends" trivia, which rivaled popular themes like "Harry Potter" and "Game of Thrones." Reservations started pouring in three weeks in advance, and almost all of the pub's 120 seats were occupied by the time the questions began. Not bad for a Tuesday night.
"We did general trivia for a while and we would get seven or eight tables on a regular basis," Reinhardt said. Then about a year ago, Claddagh began offering trivia nights focused on a particular pop-culture topic. "Now we've gotten to the stage that I can consistently say we will be full."
The difference, according to the "Friends" enthusiasts eager to demonstrate their devotion to the show: Players know what they're getting themselves into.
"You feel smarter," said Amanda Cedvora, 27 and part of the five-member Team Seven! Seven! Seven!
And the more focused the topic, the better. Tappers Arcade Bar started out doing pop-culture trivia from the 1980s and 1990s as an homage to its retro roots. Then a friend of owners Austin Howard and Jeff Moulton asked if he could try "Simpsons" trivia.
Now Tappers is home to weekly themed contests that often draw standing-room-only crowds. "The reason these tend to work so well is that they have a built-in fan base of people who already love the topic," said Moulton, 33. "They know what to expect, and what to study if they're really competitive."
Tappers charges admission for trivia night and uses the proceeds to buy prizes and even snacks that are tied to the theme. Teams participating in "Parks and Recreation"-themed trivia dined on mini waffles for example, while "Seinfeld" aficionados were served soup. "Trivia night always brings in someone who hasn't been here before. It definitely benefits us," Howard said.
Claddagh's Reinhardt agrees. That's why she pays homegrown firm Whiz Trivia to host Tuesday night trivia—and her colleagues at the Claddagh locations on East 96th Street and in Plainfield do the same. All three pubs have different topics in any given week.
Whiz Trivia owners Kaitlyn Hayes and Nicole Risacher, both 26, launched their business as trivia-night organizers last September, finding their entrepreneurial inspiration after playing months of "Harry Potter"-themed trivia at Claddagh. They never considered anything but themed trivia.
"We always do topics that at least one of us is passionate about," said Risacher, who also works as a compliance auditor at Adesa in Carmel. "Writing the questions requires a lot of research, re-watching the shows, re-reading the books."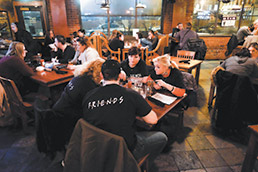 Customers at Claddagh Irish Pub play "Friends"-themed trivia. (IBJ photo/Eric Learned)
As Whiz's resident "Harry Potter" expert, Risacher re-read the series four times last year. To no surprise, Whiz now has enough material for six weeks of "Harry Potter" trivia.
"That's our bread and butter," said Hayes, who also works as an executive assistant at a tech firm in Carmel. "It's a bit of a learning curve, to see what hits best."
New topics, like "Friends" and "The Office," start with a three-week run so there's time to build a following.
Whiz maintains a database of its questions, where they were used and their difficulty. Contests typically include 10 rounds of five increasingly difficult questions, with points awarded for each correct answer. The three teams with the highest scores win Claddagh gift cards—$50 for first, $30 for second, and $15 for third.
Hayes and Risacher tally the points between rounds and periodically update the contestants on their totals, spurring some good-natured strategy sessions.
"Maybe we should send them a drink," joked Natasha Hickox, 40, upon learning her Team Unagi was in second place.
Her team—sister Carlene Richardson, 52, niece Kaitlyn Schaefer, 28, and nephew Austin Schaefer, 23—drove from Casey, Illinois, for "Friends" trivia. Although they narrowed the gap, Team Unagi members remained in second place at the end of the night.
"We had fun," Hickox said, "which is all that really matters."•
Please enable JavaScript to view this content.