Should lawmakers allow payday lenders to expand their offerings?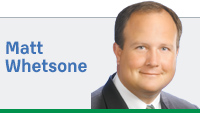 In communities throughout Indiana, families continue to live paycheck-to-paycheck. Four in 10 adults struggle to make ends meet, according to the Consumer Financial Protection Bureau's Financial Well-Being Survey. And Bankrate's Financial Security Index finds that 39 percent do not have $1,000 to cover an emergency.
To bridge the gap, Hoosiers sometimes count on regulated, short-term, small-dollar loans as a transparent, reliable and cost-effective solution for managing financial obligations and urgent needs. These small-dollar loans carry a one-time flat fee, require zero collateral, and have no impact on borrowers' credit rating. For many, a two-week loan from a state-regulated provider offers a flexible solution between paydays.
Now, Indiana lawmakers are considering legislation that will expand access to credit for Indiana families. While many value the flexibility of two-week loans, others are in need of a longer-term loan, distinct from the current two-week offering. House Bill 1319 would provide access to installment loans with a minimum term of three months, bridging the credit gap for those who prefer a small-dollar, longer-term loan not typically offered by traditional financial institutions. A number of states, including neighboring Illinois, already provide for installment loans alongside short-term loans, recognizing that for some borrowers and certain financial situations, a longer-term or larger-principal amount is beneficial.
The bill includes critical consumer protections and guard rails, requiring lenders to complete a payment-to-income test to ensure ability to repay and mandating that all loans be submitted to a statewide database to prevent a consumer from having multiple outstanding loans. Lenders will generate more than $300,000 a year for financial literacy programs, to be offered in partnership with trusted community organizations. And every storefront will post information about calling 211 regarding food, housing and utility assistance programs.
Some critics maintain that consumers should just look elsewhere for their short-term credit needs. While a healthy, competitive marketplace works in consumers' best interests, few financial providers offer a comparable, dependable, convenient solution that meets borrowers' needs. And not-for-profit organizations touting "alternatives" are able to serve only a limited number of consumers, not the $413 million in 1.2 million regulated loans made in Indiana last year, making them inadequate substitutes for widely accessible retail lending.
The two-week loans allowed under current law provide critical, reliable access to credit. But there might soon come a day when this option is no longer available. In 2017, the Consumer Financial Protection Bureau finalized a federal rule on short-term lending that, when implemented, will drastically alter the borrowing landscape, making it difficult for consumers to borrow short-term loans when they need to most. In the absence of regulated options, consumers are forced to turn to inferior, riskier or more expensive unregulated choices.
HB 1319 will ensure that hardworking Hoosiers continue to have credit options for managing financial difficulties. Failing to act to improve and expand the credit market risks disenfranchising Indiana residents of all regulated short-term credit.•
Click here for more Forefront columns.
__________
Whetstone is principal of lobbying firm 1816 Inc. and represents financial firm Advance America at the Statehouse, Send comments to [email protected]
Please enable JavaScript to view this content.