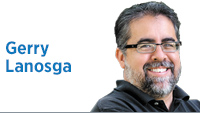 Next month brings another Sunshine Week, the annual national celebration of the public's rights to know. It will be the 14th such observance, but unfortunately, we aren't making much progress in government openness.
Technological advances since the first Sunshine Week have made it possible to take giant steps toward true transparency. But the gains we've seen are often overshadowed by efforts to block public disclosure rather than encourage it.
For me, the one-sided release of the U.S. House memos regarding FBI surveillance epitomizes the hypocritical attitude many officials have toward transparency. They are happy to release records when it favors their partisan interests, but just as happy to block access when it does not. The initial vote to release only the Republican memo, and the White House's refusal to allow release of the Democratic memo, reflects a craven disregard for meaningful transparency.
When it comes to open government, in fact, the message from the top is clear: The Trump administration has shown little but contempt for the public's right to know. Reports on this are legion, such as the Sunlight Foundation's research on the dramatic reduction of information on federal websites. 
A further reflection of the low regard for public access is the administration's failure to release a policy on enforcement of the federal Freedom of Information Act. Presidents and attorneys general have been doing that for a long time, but the Trump administration has not. The Department of Justice's FOIA website still points to the Obama administration's guidance.
Transparency, incidentally, is not a mere side show to the main work of government. As the Indiana access law puts it, providing access to information is an integral duty of public officials. Of course, there is national security to protect and infrastructure to fix, but agencies must do those things in the full light of day.
Sadly, that principle is routinely violated. To name just a couple of instances:
◗ The Associated Press reported on a pattern of public agencies around the country filing lawsuits against public-records requesters. Agencies are asking judges to allow them to withhold records, and even if they are unsuccessful, this practice certainly will serve to discourage people from even asking.
◗ The Center for Investigative Reporting explored the increasing frequency of government agencies giving private contractors exclusive rights to public data, including court records, building codes, even public laws.
Examples like that reflect numerous others involving excessive fees, long delays and outright failure to respond to requests for information.
On the other hand, consider a few of the many things we probably wouldn't know without the ability to obtain records under state and federal access laws. Last year, for instance, a South Carolina newspaper celebrated Sunshine Week with a roundup of important stories based on public-records requests. It included accounts of runaway government spending, controversial information-gathering practices by police, and concussions among college football players.
You could compile a similar list in any state. One entry here: The Indianapolis Star's investigation of Indianapolis-based USA Gymnastics, which relied on public records from 23 states.
But journalists aren't the only ones who can use public-access laws. Thoughtful people from all walks of life and all points of the political spectrum have a stake.
Sunshine Week runs March 11-17 this year. Why not help keep public business public and fight the long-term erosion of open government? Ask for a record. Attend a government meeting. Let officials know transparency matters to you.•
Click here for more Forefront columns.
____________
Lanosga, a former reporter, is a journalism professor at Indiana University and president of the Indiana Debate Commission. Send comments to [email protected]
Please enable JavaScript to view this content.