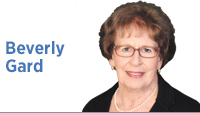 How do you give away $41 million? That is the challenge for the Indiana Volkswagen Environmental Mitigation Trust Fund Committee, which I chair, and the air-quality staff of the Indiana Department of Environmental Management.
Who gave Indiana $41 million to give away? Over a six-year period, Volkswagen sold almost 600,000 vehicles in the United States, including about 8,890 in Indiana. VW found a way to cheat on emissions tests and, consequently, these vehicle emissions violated the Clean Air Act.
When the cheating was discovered, VW admitted to it. The settlement the automaker reached with the courts established a mitigation trust fund of $2.7 billion, from which Indiana receives almost $41 million. The funds must be used within 10 years and dispersed by Indiana within three years.
Funds must be used for improvement in air quality with respect to nitrogen oxide, or NOx, emission reductions. Gov. Eric Holcomb named IDEM as lead agency for receiving applications and awarding funds.
Holcomb also created the Indiana Volkswagen Environmental Mitigation Trust Fund Committee to work with IDEM in developing and approving a Beneficiary Mitigation Plan and organizing and conducting public meetings to receive input on the awarding of funds. Members of the VW committee include six members from designated state agencies and five residents of Indiana. Included in the citizen resident appointees are a former chief justice of the Indiana Supreme Court and an environmental scientist. I was asked to be chairwoman, probably due to my working on environmental policy the past 30 years.
IDEM staff has worked for much of 2017 to develop a draft framework plan, which is available on IDEM's website dedicated to the VW award, www.idem.IN.gov/airquality/2712.htm. By the end of February, the VW committee and IDEM staff will have hosted five public meetings across Indiana listening to input from interested stakeholders.
These meetings were videotaped and are available for viewing on the VW dedicated website. Additionally, IDEM has a portal where interested parties are requested to submit comments to VWTrust@idem.IN.gov. The public meetings generated smaller attendance and fewer comments than anticipated. However, there seemed to be a trend in comments.
School administrators and staff associated with school bus transportation were present at meetings. Their comments centered on problems faced by schools with aging diesel-powered bus fleets. They emit high levels of NOx and replacing them with NOx-reducing vehicles is expensive. They point out students across the state are subjected to high levels of NOx and particulate matter. They advocate that grants be awarded statewide to address the problem—not just in urban areas that are non-attainment areas for NOx and particulate matter. The draft plan does not specifically mention awarding grants to improve air quality in rural areas, but interest is apparent.
Policy decisions to be made by the Volkswagen Committee and IDEM staff are now becoming more apparent:
• Should awards be made based on locations where vehicles were purchased?
• Should awards be made only in those areas that are non-attainment or struggle for attainment?
• What factors should we use to determine the percentage of total funding allocated for each eligible project type?
• What match percentage should be required of project partners?
• Should match percentages for public versus private-project partners be the same or different?
• How should eligible project types be prioritized?
More questions will arise as more public input is received. All of this merits thoughtful consideration since effective use of these funds can significantly improve air quality and health for Hoosiers.•
Click here for more Forefront columns.
____________
Gard is a former Republican state senator from Greenfield and chairwoman of the Alcohol Code Revision Commission. Send comments to ibjedit@ibj.com.
Please enable JavaScript to view this content.