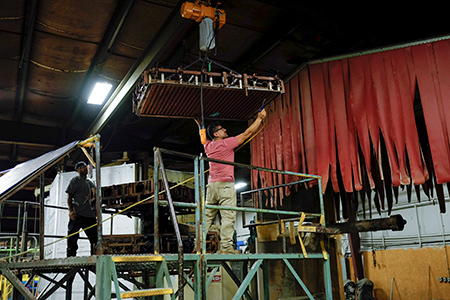 When Craig Carson bought Plainfield's Jeco Plastic Products in 1998, it was a U.S. company selling to U.S. companies.
That was a strategy based partly on economics, partly on patriotism: The previous owner considered it "un-American" to sell overseas, Carson said. Of course, it helped that domestic carmakers supplied more than enough demand to keep the facility humming.
Today, the 30-employee operation with $10 million in annual revenue deploys a very different strategy. It still makes molded-plastic pallets designed for shipping and storing products, ranging from vehicles to cases of bottled water, but two-thirds of its business comes from exports. Germany is its biggest foreign customer, followed by Mexico and Japan.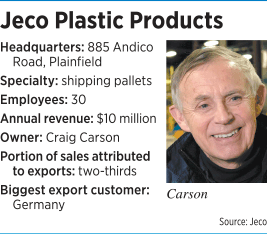 "I like Indiana, but I'd go nuts if I only could sell in Indiana," said Carson, 71. "The thing about export sales is, you are well and truly connected to the world. The world is a nice place. As you're selling there, you have a different attitude entirely."
His company, for instance, refined its methodical approach to design with lessons from its German trading partners, and honed its attention to detail thanks to customers in Japan, where the slightest imperfection—think dust on a product—merits an in-person apology from the owner.
Jeco is a model for similar small to midsize companies in Indiana, a manufacturing-focused state that has yet to fully realize its potential as an exporter. In central Indiana, 90 percent of companies sell to domestic customers alone, meaning they are missing out on 80 percent of the world's buying power. The nation's most manufacturing-intensive state ranks just 21st in exports, according to a study by the Brookings Institute and JPMorgan Chase.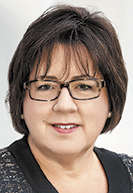 Krauss
Indiana government leaders and business-boosting organizations, from the Indy Chamber to the newly launched World Trade Center Indianapolis, are plotting ways to boost global prospects for Indiana companies. Some challenges facing Indiana exporters are outside the influence of local efforts—such as fluctuations in currency exchange rates, trade agreements and tariffs, corporate tax rates, and comparatively high shipping prices—but a bit of training and a good contact can help a Hoosier firm enter, compete and win in markets around the world.
"The global market for goods is expanding, and we have great products that could be exported," said Maureen Krauss, chief economic development officer for the Indy Chamber.
Indiana might have a way to go, but the trend lines are strong: About 3,200 companies in central Indiana export their goods and services, up 32 percent since 2006. The Indianapolis area is the nation's 30th-largest exporter in the United States, with sales of $9.7 billion. Our biggest trading partners are Canada and Mexico.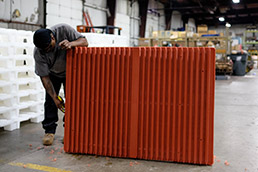 A finished pallet. (IBJ photo/Eric Learned)
Advice and introductions
Big companies like Cummins, Rolls-Royce and Eli Lilly and Co. have mastered the export game, but Krauss and her colleagues see a "sweet spot" with small and midsize companies. There's also a lot of potential in service-oriented companies, particularly in digital marketing, to find new clients overseas. A key to enticing companies to take the plunge is to take away some of the uncertainty around going global—by providing counseling and a bit of funding and making introductions.
One of the Chamber's showcase programs is GoGlobal Grants—underwritten by JPMorgan Chase—which helps companies by covering expenses to research global opportunities, develop strategies and attend international trade shows.
The program has issued 13 grants so far of up to $5,000 apiece (Jeco got one of them, to attend a trade show) and has enough funding to last a few more months before the effort goes through a reassessment process. It's given out $63,000 to date.
"There's two approaches you can take: Wait till something bad happens, and then do something about it, or be more proactive in responding to changes in a global economy," Krauss said. "That's certainly the path we are on."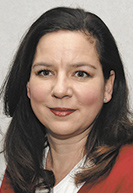 Sadler
Plenty of Hoosier entrepreneurs are eager to do business globally, as an "overwhelming" response to the launch of the World Trade Center Indianapolis in February 2017 made abundantly clear, said Doris Anne Sadler, the organization's president.
With chapters in 320 cities around the globe, the World Trade Center monitors trade, supports companies and plays matchmaker among companies seeking international deals. The Indy operation opened with three full-time staffers, and Sadler expects to double the size of the team in the next year or so.
"A lot of these companies in Indiana want to be in international trade, selling their products, but they don't know where to start," she said. Early conversations start with simple questions like which products to target to which countries.
Eventually, risk tolerance takes on greater importance. The World Trade Center, for instance, helps winnow businesses it connects to those it deems most likely to abide by the terms of their agreements, giving "comfort and confidence" to company leaders who might otherwise be wary.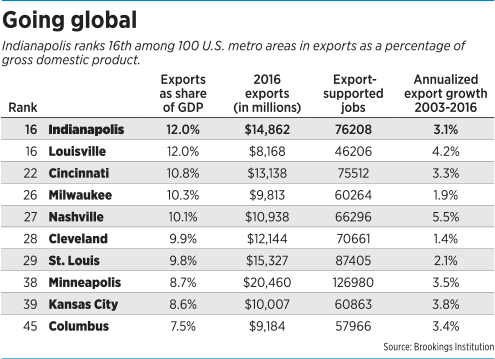 "When you're doing business in a foreign country, trust is a huge element," she said. "Our big companies have been doing business overseas for generations, and they've established those relationships."
And trade isn't just a one-way street: Helping Indiana companies connect with and buy from foreign firms can make the local companies more competitive.
"The global market is going to go on with or without us," Sadler said. "Our Indiana companies need to be competitive, and we are particularly well-positioned right now. Our governor and commerce secretary have a focus on global trade; they've been very supportive of what we're doing. Indiana is becoming an easy sell."
Foreign breakthrough
Carson didn't expect two-thirds of his business would be exports, but finding new customers became a necessity when GM decided to flatten its supply chain, dropping suppliers it deemed too small. Overseas, he found a particular respect for American companies and a willingness to work with smaller firms.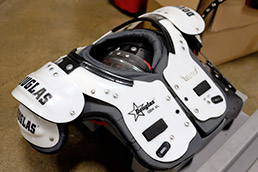 Jeco also makes plastic and carbon-fiber athletic gear, including football shoulder pads. (IBJ photo/Eric Learned)
Volkswagen provided the critical breakthrough for Jeco. Executives there were sure no one could make the perfect plastic pallet, Carson said, so he sent a spec and dared company officials to try to break it. The Volkswagen team was so impressed, they speared the pallet with a forklift—"a sort of German joke," Carson said—and sent it back to the United States. The two companies have been doing business ever since.
An important lesson for Carson has been the importance of understanding a country's culture—and, most important, language. He speaks fluent German (thanks to a stint in the Army) and employs two native German speakers in his sales office. Jeco also employs a native Japanese speaker who lives in Indiana and two in Japan, a native Spanish speaker for its sales in South America, and it has hired a native speaker in Arabic and Kurdish (who is also an engineer) for a future expansion.
"You really have to have language fluency in your company—I don't care how big it is, you better have it," he said. "It really, really helps if you're fluent yourself, in at least one other language, or you aren't really going to get it."
Jeco's other obstacles to exporting have been tougher to control in-house. The company pays a 6.5-percent duty on the pallets it sells in Germany, while Chinese competitors pay 2.5 percent, Carson noted. An undervalued euro has added to Jeco's costs. And in the United States, Dodd-Frank banking regulations adopted after the Great Recession inadvertently made it tougher for small companies to land financing (a top lending risk factor is company size), a tough obstacle to overcome since it can take six months to collect on receivables.
Carson is optimistic, though, about Indiana's prospects as an exporter. He said local and state government officials and business boosters are making it easier for firms like his to get started. And universities, led by Purdue, are helping develop a talent pipeline for companies that export.
"You can't make something that is unique if you can't make it," he said. "You may have all kinds of ideas, but if the workforce doesn't support it, it's a problem."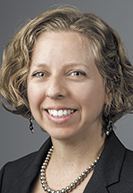 Pearl
Indiana also should benefit from the diversity of its economy, said Indy Chamber's Krauss, a Detroit native who knows how damaging it can be for a local economy to rely on one industry.
Jennifer Pearl, Indy Chamber's director of international programs, said her team is focused on identifying Hoosier companies that could be exporting, getting them into the pipeline, and making the compelling case for more Hoosier exporting.
"Our long-term goal is to put Indianapolis on the map as a city for global business," she said.•
Please enable JavaScript to view this content.