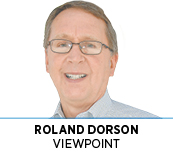 The following are tidbits of advice, offered in one case by an outstanding business leader, Bill Soards, who not only leads AT&T Indiana, but has held elective office and now serves on the Butler University board of trustees.
The next comes from a college senior, Katherine Heckel, whom I "mentor" in Butler's Lacy School of Business. Not only would I take Bill's advice without hesitation, but what I have learned is that Katherine's suggestions are to be stored away, too. I realized I am learning more than I am teaching.
Soards: three things I know about business:
◗ People matter most: employees, customers, friends and family.
◗ Your opponent today could be your friend tomorrow.
◗ Get comfortable with change.
Heckel: three things I think I know about business:
◗ If you don't ask, the answer will always be no. It's easy to feel intimidated asking a manager for more responsibility or help, but you never know the answer until you ask.
◗ Being yourself is the most genuine thing to be.
◗ It's OK to ask questions.
This student has already interned at Northrup Grumman, Rolls-Royce and the Butler Business Consulting Group, and studied in New Zealand. Why am I mentoring her?
I didn't meet my college advisers until my junior year. Career readiness meant getting whatever W2 you could and climbing as high as possible on whatever ladder presented itself.
Today, I am a professional career mentor in the Lacy School of Business. Along with my 17 other mentor colleagues, we work one-on-one with a student, the same student, from his or her first day at Butler until the last.
The Lacy School of Business has one of the most distinguished mentoring programs in the country. It is structured and integrated into the curriculum, highly focused on helping students find out about themselves and where they want to fit in the workplace and the world.
The mentors include a former hospital CEO, a practicing attorney who was once a judge, the now-retired chief human resources person from a Fortune 50 company, an entrepreneur who used to own the Cub Food Stores here in town and many more highly talented, capable people.
We are the personal career coaches for more than 1,000 students, who consistently stun me.
Some time ago, I had a student who had a promising career in accounting or finance. A high achiever with a clear talent for business, she told me she wanted to be a teacher. We discussed it at some length. Shortly afterward, she told me she was transferring to the College of Education.
We recently exchanged emails and she has no regrets about her professional direction. "This is what I want to do," she said.
These are students who will run businesses or start businesses or decide to teach. In a world full of discord, I find hope and reassurance with my students. They are hard-working, committed and—maybe most important—thoughtful. They want to have a positive impact in whatever they do.
Mentors and internships were not part of my college experience. I found both, but had to do it on my own. Now, I am being mentored again—but by students slightly younger than my own children. I am learning a lot!•
__________
Dorson, a former president of the Greater Indianapolis Chamber of Commerce, is an executive career mentor at the Butler University Lacy School of Business.
Please enable JavaScript to view this content.