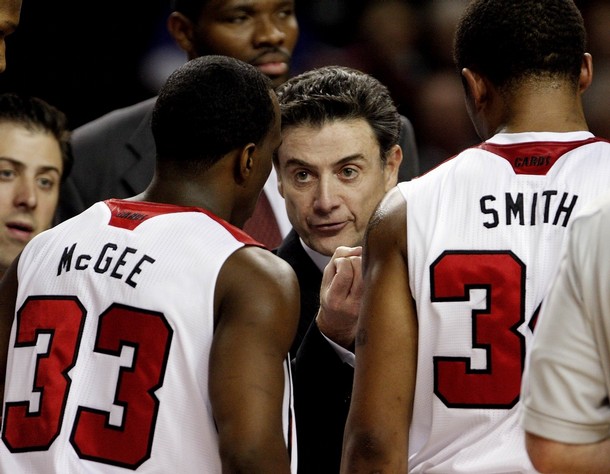 Former University of Louisville coach Rick Pitino said the school should take legal action against the NCAA after the governing body stripped the Cardinals of their 2013 men's national basketball title.
Pitino, speaking from his attorney's offices in New York City, said that the Indianapolis-based NCAA's decision to have Louisville vacate the title as part of punishment for a sex scandal was unfair.
The decision completed the governing body's investigation that followed allegations in a 2015 book by escort Katina Powell that former Cardinals basketball staffer Andre McGee hired her and other dancers to strip and have sex with recruits.
Powell's book, "Breaking Cardinal Rules: Basketball and the Escort Queen," was published by IBJ Book Publishing LLC, a sister company of Indianapolis Business Journal. Investigative reporter and Pulitzer Prize winner Dick Cady co-authored the book.
"I don't know if this Board of Trustees will do that," Pitino said when asked if Louisville should take legal action, "but they should because the players deserve it."
The sex scandal occurred during Pitino's coaching tenure, though the Hall of Fame coach once again reiterated that he didn't know about the sex activity that resulted in the sanctions.
Pitino did take responsibility for the people he hired as assistant coaches—including McGee.
As for taking legal action himself, Pitino said he was defenseless in this situation, but he is suing Louisville for his dismissal. He was not fired after the sex scandal, but Louisville let him go in October after the school acknowledged the university was being investigated as part of a federal college corruption case.
That case is unrelated to the NCAA's investigation of the sex scandal.
Louisville announced on Tuesday that the NCAA had denied its appeal of sanctions that included vacating 123 victories and the return of about $600,000 in conference revenue from the 2012-15 NCAA Tournaments. The school later removed banners of the 2013 championship and 2012 Final Four appearance.
Cardinals interim athletic director Vince Tyra said Tuesday that legal options hadn't been discussed. He suggested being personally against it, citing the difficulty and cost of litigation.
Then there is the federal investigation, and where that leads is still unclear.
The school fired Pitino following allegations that the family of former men's basketball recruit Brian Bowen was bribed in an effort to get him to attend Louisville. Bowen has since transferred to South Carolina.
In part of a statement Pitino issued Wednesday, he said that he was cooperating with federal authorities. Pitino is not named in the court complaint but said he received a grand jury subpoena last September and that his attorneys have met with U.S. attorneys in the case.
"I knew nothing about any agreement to make improper payments," the statement said, "and had no reason to suspect any illegality in the recruitment of any athlete in my programs."
Pitino said he hasn't considered his options about returning to coaching.
However, the coach acknowledged missing "every minute" of a coaching routine covering 40 years, including NBA stints with the New York Knicks and Boston Celtics.
"What the NCAA did hurts, and it takes time to get over that hurt," Pitino said.
While the NCAA no longer recognizes Louisville as the 2013 national champion, it doesn't mean the title falls to runner-up Michigan. Former Wolverines guard Tim Hardaway Jr., now a member of the New York Knicks, doesn't believe it changes what Pitino or the Cardinals achieved.
"You could take away all the banners or whatever the case may be, but you can't take away their legacy and what Pitino built there," said Hardaway, who played on the Michigan team that lost 82-76 to Louisville in the championship game.
"He had guys there that loved him. I heard practices were grueling," Hardaway said. "They played for their coach. That's what it's all about when it comes to college basketball."
Please enable JavaScript to view this content.