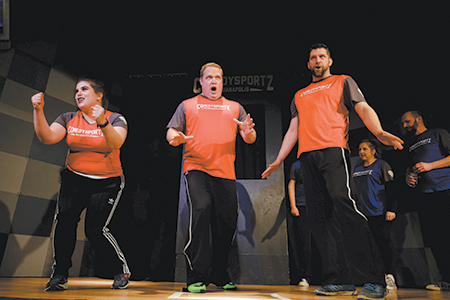 Just because there's no script doesn't mean there's no playbook for ComedySportz Indianapolis.
The improvisation-based company—now known as CSz Indianapolis—just celebrated its 25th year of making-it-up-as-it-goes-along fun. Along the way, it has weathered location shifts, the recession, the post-9/11 comedy crisis and, recently, an ownership change to become the longest-running theater production in the city.
Here's how it works: Two improvisation teams compete in a family-friendly showdown of short-form spontaneity games, with a striped-shirted referee fielding suggestions from the audience to incorporate into the on-stage antics.
The crowd cheers for favorites and votes for winners. A trophy goes to the winning team. The national anthem, blasting music and an old-school scoreboard add to the gymnasium feel. And there's peanuts and popcorn.
The format was created by Wisconsin-based comic Dick Chudnow, who just missed fame when his partnership ended with the team that went on to create "Airplane." Chudnow left Hollywood to come home to Milwaukee, where he grafted sports into comedy.
Since launching in 1984, the format has spread to cities around the country. Alumni include Wayne Brady and SNL vet Jason Sudeikis. A quarter century ago, a gang of fledgling young Indianapolis-based sketch-comedy performers trekked to Chicago for a look at one of the early ComedySportz companies.
"I had a baby and a 2-year-old and a job as a legal secretary," said Mia Lee Roberts. "With those time constraints, not having to write sketches was very appealing."
Soon, Roberts and company were presenting the show weekly from a storefront at West 30th Street and Kessler Avenue. Patrons paid $5 to see games such as "Forward/Reverse" and "Try That On For Size."
Roberts and partners Ed Trout and Lynn Burger performed every week in the early days but more locals took an interest in participating as performers. Now, more than 50 performers are on the Indy roster—and getting paid on a per-show basis for their efforts.
"It began to feel more like a business when we incorporated in 1993 and signed a lease on Mass Ave in 1996," Roberts said. Taking over the former Raleigh's Dinner Theater space, CSz Indianapolis now pays a monthly fee to CSz Worldwide in exchange for the rights to market under the national brand.
Programming expanded. The theater presents adult-focused shows such as a "Dirty Dancing" spoof called "Pervy Prancing." There's a vibrant high-school league and corporate workshops using improv games as team-building exercises for Eli Lilly and Co., Roche, the Indiana Pacers and more.
The first year on Mass Ave was tough. The rent was higher and the street was not the mecca it is now. "We postered and put fliers on everything we could," Roberts said.
Then 9/11 happened and "we couldn't call people today or tomorrow or who knows when to sell comedy." She went back to work at a law firm but said the group "took the stance that people needed to laugh."
Ticket sales remain the primary source of income. But Todd Kenworthy, one of the new partners, said, "I wouldn't be surprised if corporate training took over in a year or two."
Kenworthy, by day vice president and commercial relationship manager at Old National Bank, had been a Comedy-Sportz player for years before he considered buying in. The transition happened when Roberts, after years of battling cancer and multiple sclerosis, decided she wasn't able to give the theater the attention it needed.
Simultaneously, Burger, who kept up a full-time job as director of financial services for Indiana Sports Corp. while handling all the CSz accounting and bill paying, decided it was time to leave as well—at least as a manager. Both she and Roberts still perform regularly.
So Kenworthy and Rick Randjelovic bought out Burger and Roberts. "When you have people who already know the business, it's easier to make the transition," Trout said.
While the 60-seat theater has its limitations, Trout believes there's still room for growth, especially given the popularity of the TV show "Whose Line Is It Anyway?"
And Kenworthy said that, "When people think of corporate training, I want them to think of ComedySportz."•
Please enable JavaScript to view this content.