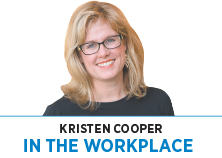 Smart and capable leaders often miss the day-to-day challenges that LGBTQ employees face.
First, if they haven't grown up experiencing snide comments, bullying or exclusion because of their sexuality, they may not know what to look for. Second, LGBTQ employees may not report things such as feeling excluded or being pressured to talk about topics that make them uncomfortable. Or, even worse, they may believe they cannot truly be themselves at work.
When leaders cannot see the problem and employees are not comfortable enough to say something, toxic workplace cultures develop. It is the responsibility of leaders to educate themselves about the lifestyles and difficulties LGBTQ communities face and be open to the many ways that people experience their world.
Even as a member of the LGBTQ community, I didn't realize we had a discrimination problem in an office where I once worked until a colleague brought it to my attention. It was a typical Monday morning, a group of colleagues had gathered by the coffee pot and were chatting about the weekend. We talked about movies, arts, sports, festivals and kids. I soon learned that not everybody in the office perceived these coffee klatches as fun and friendly.
Back in my office, a colleague walked in, closed the door and began sobbing. She told me that she and her partner had just broken up and that she never felt comfortable talking about "her" in the office for fear of retribution. It's not that she wanted to provide anybody with details about the breakup. She just wanted to be able to talk about herself and her family, openly and honestly, without feeling judged. It was clear that our office wasn't doing a good job making LGBTQ employees feel included.
In this case, several positive outcomes arose and helped to make the office more inclusive. We encouraged everyone to take "safe space" training, an initiative to educate allies who support LGBTQ individuals. Ideally, all employees from entry-level to CEO would be required to participate. We launched an LGBTQ affinity group where people who identified as LGBTQ could spend time with one another as well as with those who wanted to better understand their history, accomplishments, celebrations and perceptions. Our team also created an award that recognized individuals for their spirit of inclusiveness.
Fostering an inclusive workplace for LGBTQ employees requires leaders to develop awareness about the experiences and obstacles of their employees, educate themselves about inclusive best practices, and apply what they have learned to their companies. Collaborate with an organization like the Society for Diversity to identify certified trainers who will provide education that empowers employers to achieve diverse representation, diversity of thought and/or diversification of market share and products and services.
You also need to have a primary experience spending time as a minority within a minority community. It will dramatically change your perspective and improve your understanding of how an employee might feel like an outsider. One of the best ways to do this is by becoming a member, volunteer or donor to an organization like the Indiana Youth Group or Indy Rainbow Chamber. If you work in tech, attend the Out IN Tech event on Feb. 27 at the Metro Nightclub & Restaurant. Join us, or better yet, march in the Indianapolis Pride Parade on June 9.
Business owners must understand that attracting smart LGBTQ employees is going to be much more difficult with the absence of statewide legislation that protects them from hate crimes or being fired. Now, more than ever, we need company policies that both legally and psychologically make people feel safe. If your company is really committed to making members of the LGBTQ community feel safe, adopt a non-discrimination policy that legally protects employees from discriminatory behavior. If you want top talent, then develop the training and policies that allow LGBTQ employees to thrive.
It's sad to think central Indiana may not win more than 50,000 jobs from Amazon because it is perceived as a state that it is discriminatory toward LGBTQ people. And will our Legislature cause those who are starting scalable companies to move them to the coasts where LGBTQ people are accepted, loved and legally protected?
As business owners, budding entrepreneurs and rising managers, we need to hold ourselves accountable. The decisions that we make now about how we treat the LGBTQ community are impacting economic development for multiple generations. As for your legacy, will you be known as a leader who models and cultivates inclusion in your social and professional circles?
Cooper is the founder and CEO of The Startup Ladies.
Please enable JavaScript to view this content.