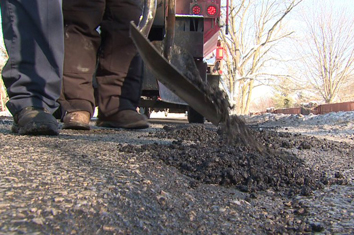 The full Indianapolis City-County Council has scheduled a special meeting Wednesday evening to introduce a proposal to spend $14.5 million to repair some of the city's lowest-quality roads.
The proposal, which will be voted on in committee Thursday with the intention of sending it to the full council on March 12, calls for the council to authorize spending the $13 million remaining in the city's rainy day fund and another $1.5 million that the city found in its Department of Public Works budget.
The $13 million comes from $52 million in local option income tax revenue that the state returned to the city in 2016 specifically to address local road funding after the funds had been sitting in reserves. The other $39 million has been included in the city's transportation budget to spend on other road projects over the next few years.
About $9.5 million of the new funds would go to resurfacing streets in a way that should last several years, the city said. Around $2.9 million will be spent on personnel costs for the Department of Public Works, such as overtime and additional labor. About $525,000 will be spent on private contractors who are out repairing roads, and nearly $132,000 will be spent on supplies like asphalt.
The additional $1.5 million will pay for future maintenance on roads, including to replace some equipment that DPW Director Dan Parker says is "older than my children, one of which is in college."
That money was found by adding up revenue from several previous DPW projects that had been "underspent."
Meanwhile, DPW crews are already out on the roads repairing pot holes and starting some of the longer-term "strip-patching" projects.
DPW said Wednesday morning that crews filled more than 17,000 potholes on Monday and Tuesday, and that 20 DPW crews and five contractor crews would be out on Wednesday continuing the work.
"We're making progress," Parker said.
Mayor Joe Hogsett's chief of staff, Thomas Cook, said the city had the funds in the budget to start repairing the potholes now before the council had approved the funds, but the council's approval will allow them to replenish the budget so that the city can complete it's previously scheduled improvements to neighborhood roads this summer.
Hogsett also continued to call for an "authentic" conversation about a "more equitable dissertation of local income tax revenues."
He said the potholes are causing "people to have a more profound understanding of our infrastructure needs."
The proposal is being sponsored by President Vop Osili and Zach Adamson, both Democrats.
Please enable JavaScript to view this content.