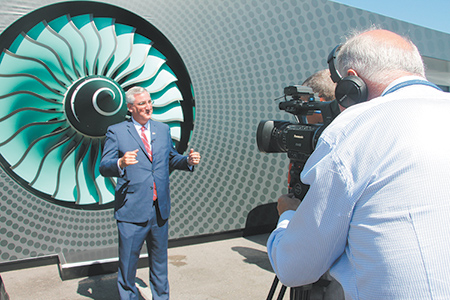 Gov. Eric Holcomb spent weeks during his first year as governor in Hungary, France, Japan and India pitching to international companies the prospect of investing and expanding in Indiana.
Holcomb and his top economic development official, Commerce Secretary Jim Schellinger, traveled to 11 countries and 31 cities in 2017. The Indiana Economic Development Corp. said those efforts resulted in 40 trade deals that came with promises to create 5,607 Indiana jobs and $1.87 billion in capital projects.
That's more than double the results from 2016, when then-Gov. Mike Pence went on no trade missions. That year, the state garnered 36 projects promising 2,648 jobs and $818 million in capital investment.
For Holcomb, the renewed emphasis on international trade is a result of his competitive spirit—he pointed out to IBJ that he was miffed that two other U.S. governors beat him to India last year—and an appreciation for other cultures that he fostered while serving in the 1990s in a multinational joint command as a member of the U.S. Navy in Lisbon, Portugal.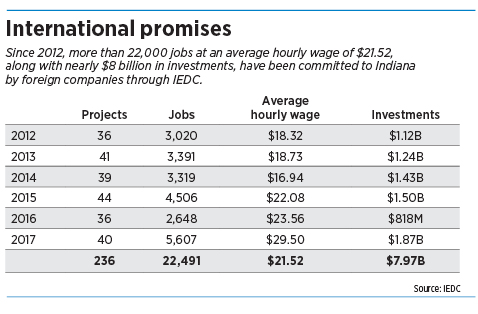 "You don't just negotiate deals on American soil," Holcomb said. "It's a two-way street. And I think the states that get this are more successful—the folks that play the ball and don't just wait for the ball to come to them.
"It's never lost on me when we're abroad and our hosts inform me of who has been there prior, my competitors," Holcomb said. "In India, it was California Gov. Jerry Brown, and Colorado Gov. [John] Hickenlooper, and me. I felt good about being there before 47 other of my cohorts, but two beat me there."
Holcomb is not the first Indiana governor to focus on international trade. The influence of foreign direct investment and the governor's role in shepherding those deals have been growing for decades.
One of the early successes was the state's luring of the $500 million Subaru-Isuzu auto plant to Lafayette in 1986. The plant—now owned solely by Subaru—has grown explosively and employs more than 5,000.
It was the first of three major Japanese auto plants to open in the state. Toyota opened in Princeton in 1998, and Honda launched in Greensburg in 2008.
But in the race for governor in 1988, Evan Bayh famously tried to use the deal against Lt. Gov. John Mutz. He ran a blitz of TV ads that the administration was giving $55 million in taxpayer money to "the Japanese."
Decades later, with 800 foreign-based businesses employing nearly 200,000 Indiana residents, few question the state's strategy of globe-trotting for jobs.
According to IEDC, Indiana has the highest percentage of private-sector jobs from foreign-owned firms in the Midwest, and Holcomb said opportunities abound to do even better.
The governor said he envisions partnering with technology firms to further build up the state's major industries—"ag plus tech, auto plus tech, RV plus tech, limestone plus tech, you name it.
"We can grow our market share and we can, not just compete, but we can win," he said. "It makes a lot of sense for companies to invest in the middle of America. If I can get them to focus in on Indiana … it will long outlive me or any one or two or three governors."
Holcomb added: "When you think about Toyota or Subaru coming here, this is one-two-three decades later, when at the outset people were skeptical. It's led to some incredible partnerships that have helped build communities. They become part of our state fabric and our identity."
Thinking big
Holcomb said governors' roles in fostering economic development overseas are growing as the "world is getting smaller and closer and more in touch with one another."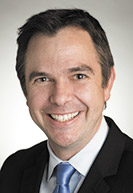 Powell
Phil Powell, an associate dean at the Indiana University Kelley School of Business in Indianapolis who studies international trade, said the trips are "a great investment for the governor."
"The United States is a great place for foreigners to invest their money," Powell said. "The states and regions that go on offense and market the investment opportunities are going to win. What we offer is a manufacturing base which is unrivaled in the rest of the U.S. The governor owes the state to deliver that message."
It's also what foreign governments expect. Tiffany Shackelford, chief strategy officer for the National Governors Association, said there's been a "really interesting pivot" in international economic development. It used to be that foreign governments went to Washington, D.C., to connect with the United States.
"Now, they go to Columbus, to Indianapolis, because that's really where the relationships are. That's where the action is," she said.

See a timeline of the 2017 trade missions of Gov. Eric Holcomb and Commerce Secretary Jim Schellinger.
To hear Schellinger tell it, the largest economic development deal in Indiana history—outsourcing firm Infosys' announcement that it will bring 2,000 jobs to the state—came nearly on a whim, the result of a mutual friend and a whirlwind of international trips.
In February 2017, a group from Infosys came to Indiana and were introduced to Schellinger through a mutual friend. Schellinger learned they planned to build innovation centers in the United States, and he "pitched Indiana as best we could" and introduced the group to Holcomb.
"I got a call Monday, March 6, and they said, 'Any chance you can come over and make that presentation to our board of directors?'" Schellinger said. "I showed up in Bangalore on Sunday, the 12th. I presented in Bangalore on the 13th."
In early April, Schellinger said, the group came back to Indiana to "meet with the governor again and further discussions." And on May 2, the announcement was made.
Schellinger said the state's responsiveness and quick travel to address Infosys' board were how Indiana secured the deal.
"You'd have thought I swam over," Schellinger said. "I got on an airplane. It wasn't that big a deal. But we hear that all the time—that nobody does it better than Indiana when it comes to response."
The strategy
But most deals aren't negotiated on a whim. The decisions on where Indiana officials go on trade missions—and when—are strategic.
"I don't see it as much as exploration as I see it as developing relationships and looking at where our interests and [those of] others align," Holcomb said.
In India, it was about exploring how Indiana and the South Asian nation could collaborate technologically. In Hungary, Holcomb said, the central European country and Indiana have a "shared manufacturing history" and it is an emerging market.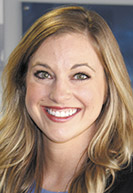 Gras
IEDC spokeswoman Abby Gras said Indiana officials' efforts have helped raise awareness around the world that the state is an attractive place to set up operations.
"Because of this, we're in a position where Indiana is recognized as a top destination for business," Gras said. "That has influenced our strategy and allowed us to focus more on creating new relationships and strengthening those already in place—both with government agencies and partners as well as with industries and businesses."
IEDC also has business-development teams working internationally, which she said "play the day-to-day role in initial meetings, negotiations, international trade shows and conferences."
Schellinger travels to further those negotiations or "share Indiana's story at the most prominent places … where the ability to turn leads into negotiations is higher," Gras said.
Last year, the 10 trips to 11 countries cost a combined $809,500, according to IEDC, all of which were paid for by the private IEDC Foundation, also called the Works Foundation.
The foundation is funded by such donors as Vectren, Duke Energy, Indiana Michigan Power, IPL, NIPSCO, Old National Bank and Hoosier Energy.
IEDC declined to break out costs per trip.
What did Indiana get from the travel? Some cases are clearer than others. For instance, in June, Schellinger and IEDC staff went to the United Kingdom to engage in confidential negotiations—the results of which still aren't clear.
Sometimes, results are announced almost immediately. In October, while Schellinger was in Germany, IEDC reported after meeting with a German company, Ludo Fact GmbH, that the company would expand its Lafayette operations, creating up to 75 jobs and investing $13 million over five years.
Butch Huber, USA general manager for Ludo Fact, said this about the trip: "I think it's fair to say that it didn't make the decision, but certainly influenced the decision, and made them more comfortable that this was something they wanted to do."
His firm's German leaders "felt welcomed" in their meeting with Schellinger, Huber said.
Long term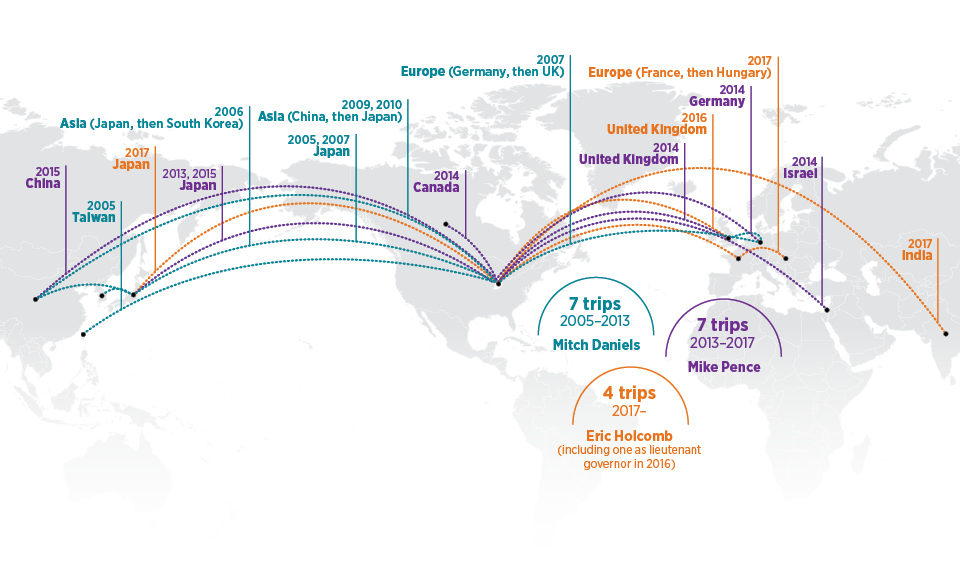 In other cases, it might be months after a trip before the public knows results.
For example, the governor and his staff met with the Japanese company Aisin Seiki, parent firm of Aisin Drivetrain, during his Japan trade mission in September. IEDC announced in February—five months later—that the firm would invest $16 million and add up to 47 jobs in its Crothersville facility in Jackson County.
Powell, the IU Kelley School of Business associate dean, said going overseas to build relationships is worth it even if results aren't immediate.
"When you go to do business in most countries outside of Europe and Northern Europe, it's about relationships; it's not about transactions," Powell said. "Americans don't understand that. When you establish a good relationship abroad, it's good for business. It's a sign of respect for what the country can do."
Powell said Holcomb's travel log shows he's thinking more creatively about the task of international trade than some leaders.
"I think Gov. Holcomb is more like [former] Gov. Daniels in that there's a real emphasis on business," Powell said. "This is just part of the DNA of Holcomb. It makes sense he's going to go out and sell the state to potential investors."
Powell added: "Everybody goes to China; everybody goes to Japan. Who goes to Hungary? You have to be entrepreneurial. A lot of countries that were poor or middle-income 20 years ago are now high-income. Thirty years ago, nobody would have thought of India as a source of foreign direct investment in the U.S."
While Gras said the governor hasn't finalized his travel plans for 2018, Schellinger is off to a busy start. He traveled to Hungary and the Czech Republic in January, and Gras said he has tentative plans to visit Canada, Germany, Italy and Switzerland.
Schellinger said IEDC is planning a European trip for Holcomb. The governor himself has mentioned going to China and Slovakia.
"I don't want to rule any area out," Holcomb said. "Because if Peru wants to buy Indiana corn, I'll bicycle to Peru. I would get there to sell Indiana anywhere in the world."•
Please enable JavaScript to view this content.