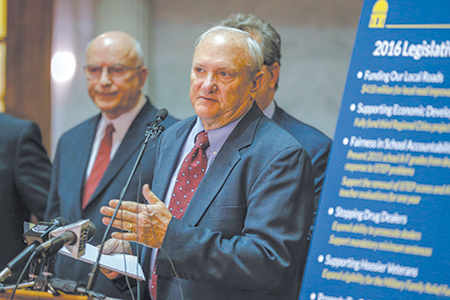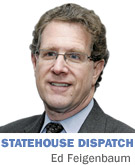 Change emanating from the General Assembly is evolutionary. Legalized gambling took forever, and it took another generation before Sunday retail sales of alcohol was authorized (on an emergency basis!).
Major policy doesn't change direction overnight (gun-control advocates take note), and those few big items that seemed to turn on a dime (think same-sex marriage) actually required several sessions for lawmakers to reach their comfort level.
Even with split control of the legislative branch (or legislative and executive branches), Hoosiers have become accustomed to fiscal pragmatism from both Democrats and Republicans. Much credit is due to legislative leaders, including those overseeing taxes and spending.
Indiana's Senate has seen only two presidents pro tem in 35 years. Michael Jackson's "Thriller" and USA Today both debuted when the gavel passed to Bob Garton, R-Columbus, and Bob Knight was basking in his second NCAA championship.
Sen. David Long, R-Fort Wayne, will step down from his post and the Senate this fall after serving as pro tem since 2006. This represents a major cultural change. Only eight Republican senators have served under a different pro tem than Long, and none under more than one other GOP leader (Garton).
The leader's job is not easy, even with a supermajority or a seemingly homogeneous caucus.
As lawmakers of his generation stacked up in committee chairs and showed no interest in leaving, Garton had a tough time in his last several years working with bright and ambitious senators who felt waiting eight or 10 years for a committee chair or leadership post was more than sufficient.
Long has found his hands full keeping more philosophically conservative caucus members from diverting legislative energy to social issues—or adding a conservative tinge to other measures—and striking a balance that still found them major contributors to policy development. Concurrently, he had to manage assorted factions to maintain his own leader status.
Long also ensured Senate legislative fiscal leaders would be pragmatic and members didn't shut down the budget process over fiscal or unrelated issues.
Former senators Bob Meeks, R-LaGrange, and Luke Kenley, R-Noblesville, were given free rein on budget issues. That allowed them flexibility to gain chamber pre-eminence for the Senate in the budget process. The appointment of Sen. Ryan Mishler, R-Bremen, whom Long groomed as Kenley's replacement, bodes well for the budget's remaining non-ideological. Mishler has not been identified with any particular legislative issue in his legislative service that he might otherwise advocate in his new role.
But Kenley left at midterm, followed soon after by the even more surprising departure of then-Sen. Brandt Hershman, R-Buck Creek, who chaired the Committee on Tax and Fiscal Policy in addition to his majority-floor-leader role.
With Long leaving before Organization Day, the top four Senate posts will have changed hands within just one year.
The Long successor is—barring a deadlock—likely to emerge from among Sens. Travis Holdman, R-Markle; Rodric Bray, R-Martinsville; and Mark Messmer, R-Jasper.
Holdman, who chairs the tax and fiscal policy panel, has been a senator longer than Bray and Messmer, but he has only 10 years in the body. If selected as leader, he would also have to be replaced at the helm of one of the top two fiscal panels, portending more incertitude. Should Bray win, Republicans would need to find a new floor leader. Messmer, who moved over from the House, is still in his first term, so is less entrenched than the others.
While Senate Republicans probably won't consciously consider the long period of relative peace within their body as they select Long's successor, they should recognize that, given the legacy of their supermajority, there's little left to check off on the ideological agenda. Selecting someone with Long's character, penchant for consistency, and political skills would suit them and Hoosiers writ large looking to the next generation.•
__________
Feigenbaum publishes Indiana Legislative Insight for Hannah News Service. He can be reached at EDF@hannah-in.com.
 
Please enable JavaScript to view this content.