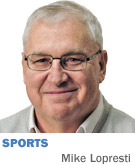 One day soon, it'll be over for Romeo Langford at New Albany, and he'll join the long line of young basketball stars before him in this state—never forgetting the last high school game he ever played.

Let's go ask some of them.

Butler legend and Boston Celtics coach Brad Stevens hasn't. Not Zionsville's 86-57 shelling by Brownsburg in the 1995 regional, a week after winning the school's first sectional in nine years.

"I don't remember how long we hung in there, but it wasn't very long. I remember the vibe; I remember the environment. With seniors, it's no longer a want to win, it's a need to win, to extend your life as a high school basketball player. We got beat my sophomore year on a last-second shot in the sectional final; we got beat my junior year early in the sectional. So your senior year, your sense of urgency was extremely high. I've said many times, those games were as big to me in that moment as any games I've ever been a part of."

TV analyst and former Indiana University player and coach Dan Dakich hasn't. Not Andrean's 84-80 loss to Anderson in the semistate title game in 1981, the year after losing to New Albany by one point in the Final Four.

"It's one of four losses in my life that I think about every day. Not getting back to the state is one of life's biggest regrets for me. I walked off like probably 99.9 percent of kids do, just absolutely crushed. I'm not sure I'm over it, if you want to know the truth."

IUPUI coach Jason Gardner hasn't. Not the 24 points the 1999 Mr. Basketball scored in the 79-74 title-game win over Elkhart Central, giving North Central its first state championship.

"It really started when we were eighth-graders and we played AAU basketball together. It kind of all came back together for our senior year. Even today, when we see one another, we're still talking about it. It's something you can never take away."

Marian University athletic director and former IU star Steve Downing hasn't. Not the 79-76 state-title game win over Gary Tolleston in 1969 that gave Indianapolis Washington—with teammate George McGinnis—a perfect season.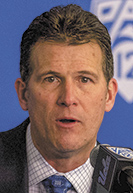 Alford
"As a kid, my father used to take me to all the Attucks games. I saw them win a state championship and, from that point on, it was something I wanted to do. It was kind of a fulfillment of a mission—a sense of relief just to get it over with. We had a big bonfire that night back at the school. To me, that was when I knew; I really was sad because it was over. There was nothing else to do."
UCLA coach and IU icon Steve Alford hasn't. Not Chrysler New Castle's 70-57 semistate-title loss to Connersville in 1983, despite his 37 points for his father/coach Sam. Hours earlier, the Mr. Basketball scored 57 points to beat Broad Ripple.

"My whole goal and dream as I did my workouts every summer was about winning the state championship. It wasn't about college; it wasn't about the NBA. I got to experience the Olympics a year later and that never even crossed my mind growing up. When you don't accomplish that, it's a tough thing that you have to endure, and the realization I was playing the last time for my dad.

"I give him a lot of credit because it was the very next day when I was at the gym [shooting on his own maybe 16 hours after the loss], he gave me advice: 'Your high school career is over; now these workouts have to be driven toward Indiana.' That game's always there. When [Connersville's] Mike Heineman went to Wisconsin and I went to Indiana, I told him every time we played, 'This one's for that night back in March at Hinkle.' But it doesn't ever correct it."

Marian coach Scott Heady hasn't. He won two state titles as a coach at Carmel, but before that led tiny Shenandoah (and father/coach Bob) to the 1981 Final Four, before losing to Vincennes 72-53.

"I remember just the finality of everything. It was obviously a great experience, but a tough day. I'd been going to the gym with my dad as a coach since I could barely walk. We had a big celebration at Shenandoah the next day with 3,000 people in the gym. The first year we won the state championship at Carmel, we got back and it was like any other game.

"Guys go in the locker room, put their uniforms in the bag—we talk to them for five minutes, and everybody goes home. The coaches are sitting in the locker room and I'm like, 'Guys, this is not the way it's supposed to be.'"

Purdue coach Matt Painter hasn't. Not Delta's 81-76 loss to Alexandria in the 1989 regional.

"I remember we lost. That's the one thing about someone's last high school game, outside of people who won a state championship. We probably had more talent my junior year and got beat in the sectional final. The team we got beat by, we had beaten by 30 or 25 during the season. I probably think about that more than my senior year when we won the sectional, but I'm a little demented when it comes to things of that nature, because I think about the losses more."

Indiana Pacer Glenn Robinson III hasn't. Not Lake Central's 76-72 afternoon regional loss to South Bend Adams in 2012.

"We were up most of the game. I think Coach sat me down a little bit to get some rest for that night, and they came back and we ended up losing. High school is the last time you play basketball for each other. You're not playing for money, you're not playing for contracts, you're not playing for scholarships, you're not playing for anything but to have fun with the guys you go to high school with. That will always be there in my mind."

Finally, political giant and 17-term Democratic congressman Lee Hamilton hasn't. Not 70 years after Evansville Central's 54-42 state-championship-game loss to Lafayette Jeff in 1948, in which he played only a few minutes before having to leave because of a torn leg cartilage suffered in the afternoon win over Muncie Central, when he had 16 points. He was taken to the locker room in the bowels of Butler Fieldhouse for medical attention.

"We had the radio on. That's the only way I knew what happened. We lost to a Jeff team we had beaten handily during the season. It was not a very pleasant ending to my career. I had wanted to win the state championship and worked for it for years; I guess I learned you don't get everything you work for.

"I was awarded the Trester Award [for mental attitude], but I was not able to walk upstairs to get it so my father received the medal and brought it down to me. It didn't mean much to me at the time, I was so devastated. It's only over the years you learn to appreciate the award. At the time, I didn't give it 10 seconds' thought."

Now that day means a lot. It does to all of them. It will to Langford, no matter the places he'll go.•

__________

Lopresti is a lifelong resident of Richmond and a graduate of Ball State University. He was a columnist for USA Today and Gannett newspapers for 31 years; he covered 34 Final Fours, 30 Super Bowls, 32 World Series and 16 Olympics. His column appears weekly. He can be reached at mjl5853@aol.com.