It's as true for organizations as it is for road-trippers: An out-of-date road map might not get you where you want to go.

That's the situation facing Conexus Indiana, whose new president and CEO—former Angie's List Chief Operating Officer J. Mark Howell—is already looking for ways to help the state's advanced-manufacturing and logistics industries navigate a changing technology landscape.

Howell spent 18 years in senior management at locally based cell phone distributor BrightPoint Inc., leaving in 2012 following its $650 million sale to California-based Ingram Micro Inc. He then became COO of Angie's List but left in December after helping the company restructure following its $505 million sale to New York-based IAC.

"We know we want to evolve. We want to do some new initiatives," said Conexus Board Chairman Chip Edgington, executive vice president of the online women's apparel retailer Full Beauty Brands. "We're lucky to get Mark because he has the skill sets to guide us to the next level."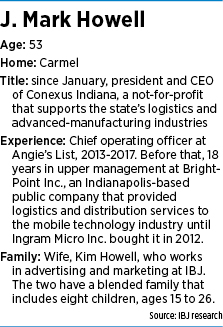 Howell started in January, succeeding former Rolls-Royce executive Steve Dwyer, who retired. He said he's not looking to tear up the old playbook at Conexus, an initiative of the not-for-profit Central Indiana Corporate Partnership that works with tech industry partners on such issues as building a talent pipeline, addressing skills gaps and strengthening the state's infrastructure.

But Howell—and the organization's board—say they want to do more to help Hoosier companies thrive in an era of technological change.

Since Conexus' 2007 launch, the organization has provided what Howell describes as "thought leadership" on issues of public policy. Now, he wants Conexus to play a similar role in regard to technology development.

It's an important issue, Howell says, because companies will be at a big disadvantage if they can't keep up. "It's one of the risk areas we've identified."

For instance: Product design and testing can increasingly be done online, 3-D printing can reduce production costs, and data analytics can help companies make better decisions. But companies have to figure out how to make the shift.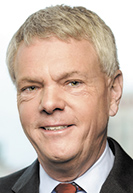 Johnson
Howell was actually part of the original Conexus board. But a lot has changed in the last decade, said CICP CEO David Johnson. Johnson also serves as a Conexus board member and as CEO of BioCrossroads, a CICP initiative targeting life sciences.

Those changes include the emerging "internet of things"—the interconnection via the internet of tech-enabled everyday objects—along with advances in robotics and artificial intelligence.

"That is a very different world from when Conexus was organized in 2006-2007. There are both big opportunities and big challenges," Johnson said.

One way Conexus might help companies navigate technology developments, Howell said, is by acting as an intermediary between them and subject-matter experts.

Thinking along those lines is smart, said Mark Muro, a senior fellow and policy director at the Brookings Institution, a Washington, D.C.-based public-policy think tank.

In August, Muro authored "Where the Robots Are," a study showing which metro areas and states have the highest concentration of industrial robots.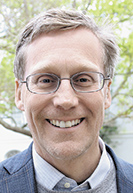 Muro
Muro's research showed that Indiana had about 19,400 industrial robots in 2015, 8.3 percent of the nation's total. Only Michigan and Ohio had more.

Those robots handle jobs like welding, painting cars and moving materials from place to place, and Muro's study showed strong overlap between the prevalence of robots and the presence of heavy manufacturing.

"Robots are the major technology factor of the last 20 years in manufacturing, and I think now we're moving into a period where artificial intelligence and digital technology will move to the fore," Muro said. "Indiana is right smack in the middle of all of this."

Howell is the third leader of Conexus. The first, former Ivy Tech Community College administrator Carol D'Amico, was forward-thinking, Edgington said, and the second leader, Dwyer, was skilled at execution.

Under Dwyer, Conexus tripled its staff to 16 and enrolled more than 8,000 high school and college students in talent-development programs. It also developed three industry-led councils that identify and capitalize on growth opportunities in aerospace and defense, automotive and logistics.

In addition to focusing on technology, Howell said, he wants the organization to do a better job highlighting the state's manufacturing sector and the high-skill, high-paying jobs it can offer.

According to the Indiana Manufacturers Association, about 17 percent of the state's workforce—and about 30 percent of its total economic output—comes from manufacturing. Average annual pay in the industry was $73,800 in 2015.

Publicizing these facts, Howell said, should help attract young people to the industry.

Talent development has long been an interest for Howell, said former Angie's List CEO and co-founder Bill Oesterle.

Shortly after arriving at Angie's List in 2013, Howell established a leadership-development program called the Firehouse Council. The group, which was named after (and held its meetings in) an old firehouse on the Angie's List campus, spawned a running club and a book club.

The Firehouse Council, Oesterle said, prepared participants to take bigger roles at the company. "They became the feeder system for Angie's List leadership."

Howell was also an early supporter of the Orr Fellowship, Oesterle said. The program, which Oesterle co-founded in 2001, is a two-year post-college program for budding business leaders and entrepreneurs. BrightPoint was among the first companies to host Orr Fellowship recipients, Oesterle said, and Howell oversaw the company's involvement in the program.

Those experiences should serve Howell well in his new gig, Oesterle said. "He's built for this. He is hard-wired for this."

As he ramps up at Conexus, Howell also is tackling another major responsibility: chairing the Indianapolis host committee for the 2022 College Football Playoff National Championship.

Though the two might seem unconnected, Howell said the football event will "absolutely" be beneficial to Conexus and its mission. The game and its associated events will help promote general awareness of the area and its economy.

"Part of the objective of the football championship is to show off our city and show off our state," Howell said. "We're thinking of some very fun, very cool things to do."•