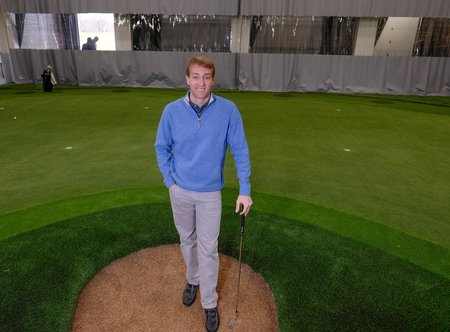 Highland Golf and Country Club on Indianapolis' northwest side is putting the finishing touches on a $1.6 million indoor training facility that its members will share with Butler University's golf teams.
Mayor Joe Hogsett, along with the club's head golf pro, Bill Pollert, and Butler's director of athletics, Barry Collier, are scheduled to cut the ribbon March 12, to mark the opening of the Highland Academy.
The 9,200-square-foot facility features a 3,200-square-foot putting and chipping area, complete with a faux sand trap, in addition to four indoor-outdoor heated hitting bays outfitted with Trackman technology, a teaching bay and two golf simulators allowing golfers to virtually play courses from around the world. 
"This rivals anything in the country for Division I golf," Pollert said. "With Butler's move to the Big East, they want to compete at a higher level."
Highland, just north of Butler's campus on 52nd Street near Michigan Road, has served as the university's home course for the past four years and hosts men's and women's golf tournaments.
Butler last year signed a 30-year agreement to continue the arrangement and will pay an annual fee to use the academy. The fee, along with a major contribution from a club member, is helping to fund the cost of the facility.
"It really turned out great, and our team is really looking forward," said Bill Mattingly, coach of Butler's men's and women's golf teams. "It will mean a lot for our recruiting."
Highland members get access to the academy through their annual club dues. Club officials hope the indoor facility might attract new members, too. Highland sits in a crowded corridor of golf courses that includes Broadmoor Country Club and Saddlebrook Golf Course. Saddlebrook has been closed since 2015, but is set to reopen in the spring.
"For other clubs that have built these [indoor training facilities], they have increased membership," said Mike Petrie, president of Highland's board. "And for Indiana, which is a northern state, it provides year-round golf. It's the only type of facility in its class. As a country club, it's the best in the state."
The indoor training academy also includes a bar and lounge area, a conference room and locker rooms.
Club directors have committed to other improvement projects, as Highland prepares to turn 100 next year. Two years ago, they hired Phoenix-based Global Golf Advisors to help them prepare a strategic plan to guide the club into the future.
As part of that strategy, the club last year sold 12.2 wooded acres along the White River to the Central Indiana Land Trust for $2.7 million. The trust bought the scenic land from Highland to prevent it from being developed.
Club directors are using the $2.7 million from the land sale to expand the pool house and add a fitness center and indoor paddle tennis court, in addition to exterior improvements to the clubhouse, Petrie said.
"You have to change to fit the culture we're dealing with," he said, "so we're making changes."
Directors also have created the Highland Golf Academy Foundation, aimed to provide access to golf to individuals who otherwise wouldn't have the opportunity to play. They're starting a First Tee program for young players and will partner with the local Department of Veterans Affairs on a PGA Hope program for veterans.
Please enable JavaScript to view this content.