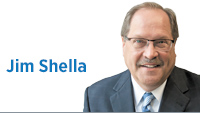 Let's talk about guns.
I have a new one. Well, it's new to me. It's actually a very old gun, a family heirloom. It was passed down to me after my mother died last year.
It originally belonged to my great-grandfather. He used it as a soldier in Sherman's Army. That's William Tecumseh Sherman, the Union general who led a March to the Sea through Georgia near the end of the Civil War. My great-grandfather was a war hero.
Recently, one of my nieces conducted some genealogy research and discovered four of my ancestors also fought against England in the Revolutionary War, even though they were Quakers. Apparently, I come from an extensive line of heroes.
But let's get back to that gun.
It now hangs on the wall in my office and serves as quite a conversation piece. As friends and visitors look it over, they usually supply me with information about how the gun operated, how it was modified after the war (to kill pigs on a Wisconsin farm), and how modern-day guns differ.
I had no idea so many people in my circle were gun nuts. It's a reminder that we live in a gun culture.
As you might have guessed by now, I am not a gun nut. But I did grow up around guns. Both of my grandfathers were hunters and one of them was an expert marksman. He shot skeet once a week and would spend summer evenings shooting sparrows and feeding them to his cat.
My dad also hunted, pheasants mostly, and he took me with him. I went through National Rifle Association gun training as a youth but, until now, I have never owned a gun.
I also never joined the NRA, but I have long been acutely aware of its influence. Several years ago, a political science professor at an Indiana college asked me to fill out a survey as part of a research project he was conducting. Among other things, he wanted a list of the most effective lobbying groups in the Indiana Statehouse. I put the NRA at the top.
The professor wrote back to question my response. He said the NRA didn't even have an Indiana lobbyist.
Exactly. It didn't need one.
A number of NRA members serve in the General Assembly and, at that time, then-Sen. Johnny Nugent served on the NRA board of directors. I imagine he took part in every policy discussion held regarding gun laws in Indiana.
Both here and in Washington, the gun lobby has become so used to winning that it refuses to give ground on anything. My impression is that it believes any gun control will lead to oppressive gun control down the road.
It's time to find a balance. I know guns are not the sole factor in the recent flurry of mass killings in America, but they are a factor.
I am encouraged that—in the wake of the Parkland, Florida, massacre—steps are being taken to limit access to automatic weapons and potentially other guns.
I believe my heroic ancestors fought for not only rights that include the right to bear arms, but also—more important—freedoms that include the freedom to go to school, or the mall or to work without fear of a violent attack. We don't have that now.•
Click here for more Forefront columns.
__________
Shella hosted WFYI's "Indiana Week in Review" for 25 years and covered Indiana politics for WISH-TV for more than three decades. Send comments to ibjedit@ibj.com.
Please enable JavaScript to view this content.