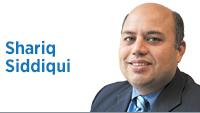 Last month, the Carmel Board of Zoning Appeals approved the building of the Carmel Islamic Life Center. While we should rejoice at the building of the first Islamic center in Carmel, we should also worry about what it took to make this happen.
The fact that the board voted 3-2 to approve the Islamic center shows how close the forces of bigotry and prejudice were in succeeding to delay the project. Further dismaying was the fact that so many were in opposition that the zoning decision had to be delayed, moved to a larger venue, and the hearing took more than five hours!
That the Islamic center would be built was a foregone conclusion for those who understand Indiana's constitution and our state's strong laws protecting religious freedom. Had the zoning board rejected the application, a state court would have rectified this short-sighted act.
A number of developments stood out about this recent experience. First was the fact that Carmel's Muslim community had so many partners and champions. The Center for Interfaith Cooperation has developed a coalition that effectively opposes bigotry. Carmel Mayor Jim Brainard and city officials were vocal in their support of the project. This bodes well for our community.
It also helped that, despite this being the first Islamic center in Carmel, the Carmel Muslim community is well-established. Those who will be part of this Islamic center include third- and fourth-generation Muslim Americans. The community has been very engaged in partnering with Brainard and other city, civic and faith leaders.
Unfortunately, a large number of people were opposed to the project. Most would quickly state, "It's not because of Muslims or Islam. I have other concerns," such as traffic and noise. I don't buy most of those pronouncements. As a former civil rights investigator, I have rarely heard prejudice stated directly. Excuses are used to mask bigotry.
I have lived in this area for 25 years. As I have driven through our neighborhoods, I've seen large places of worship across central Indiana and Carmel. I have never heard the level of opposition the Carmel Islamic Life Center faced. If you think it was anything but bigotry, I have a bridge in La La Land to sell you.
Further dismaying was the level of opposition from immigrants. Some of that opposition was publicly against Islam. Many of those immigrants hail from countries where Muslim minorities are persecuted by majority nationalists. As Kambiz GhaneaBassiri illustrates in his "A History of Islam in America," bigotry against Islam and Muslims has existed in America since before the United States was born. But this local case study shows it continues through international forces of nationalism.
I also was saddened to see that many immigrants who opposed the Islamic center were established Americans. Their success in achieving privilege brought with it bias. It is unfortunate that these immigrants feel that, in order to achieve the gold standard of privilege—white privilege, they must hate others like themselves.
I love this city and love our state. I could have lived anywhere, but chose to live here to have a family and raise my children. There is no perfect place on Earth. There are only places we must make better. We can only do that by understanding the problems we face. We must continue to develop coalitions that fight bigotry and bias.•
Click here for more Forefront columns.
__________
Siddiqui is an attorney, has a doctorate from the Lilly Family School of Philanthropy at IU and leads the Association for Research on Nonprofit Organizations and Voluntary Action. Send comments to ibjedit@ibj.com.
Please enable JavaScript to view this content.