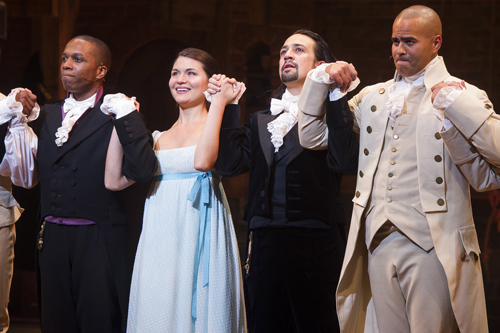 Broadway phenomenon "Hamilton" is coming to Indianapolis, but fans will need to be patient.
Presenting company Broadway in Indianapolis announced Tuesday that the national tour of "Hamilton: An American Musical" will be part of its 2019-20 season, although an official date hasn't been determined. That means the record-setting show could be scheduled as early as September 2019 or as late as April 2020.
Organizers said more specifics about "Hamilton" will be announced at a later time.
Broadway in Indianapolis presents national touring shows at Old National Centre or Clowes Memorial Hall, typically on a one-week schedule.
The group is tapping the popularity of "Hamilton" to sell tickets for its upcoming 2018-19 season, which features six shows, starting with "Disney's The Lion King" from Sept.12-29 and running through "Waitress" from April 23-28.
Patrons who buy 2018-19 season tickets, which range from $155 to $520 each, and then renew for the 2019-20 season will be guaranteed tickets to "Hamilton."
Tickets can be ordered at the Broadway in Indianapolis Box Office in the Old National Centre at 502 N. New Jersey St., Monday  through Friday from 9:30 a.m. to 5 p.m. They also can be ordered online at www.BroadwayinIndianapolis.com.
"Hamilton" is a multiple Tony-award-winning musical about the life of founding father Alexander Hamilton notable for its use of hip-hop and rap. The show has set several box office records since opening in 2015. It won 11 Tony awards in 2016, including the award for "Best Musical."
Please enable JavaScript to view this content.