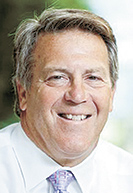 Buck
Thomas. J. Buck, a former top investment broker who was fired by the local office of Merrill Lynch in 2015 after nearly 34 years with the firm, is scheduled to be sentenced next month after pleading guilty in January to one count of securities fraud.
The charge carries up to 25 years in prison.
Judge Tonya Walton Pratt has scheduled sentencing for 9 a.m. on April 12. As part of a separate settlement with the U.S. Securities and Exchange Commission announced in October, Buck agreed to pay a $5 million penalty.
Federal investigators say Buck, 63, defrauded clients by charging excessive commissions and intentionally failed to advise them of cheaper pricing options for his services. They say the criminal activity caused clients to suffer a total loss of $2 million.
Buck was ranked as one of the country's top 100 financial advisers when he was fired by Merrill Lynch in early 2015 due to "management's loss of confidence."
Buck had been senior vice president of investments at Merrill Lynch and ran The Buck Group, a team of about a dozen advisers, including his daughter, Ann Buck.•
Please enable JavaScript to view this content.