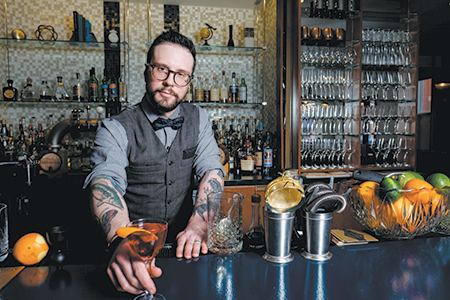 Top Indy bartenders didn't get into the business merely to follow recipes and serve drinks. They savor the complex interplay among ingredients and have their own strong opinions about what makes a great cocktail. On this page is a trio of favorites. 
Boulevardier
by Ethan Rodgers, bartender at Spoke & Steele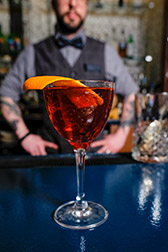 Rodgers said this classic rye-whiskey-based cocktail is the first drink he ever truly explored. "Nearly every signature or craft creation I conduct begins with the Boulevardier," he said. "There are endless flavors and aromas to be experienced." And "luckily for the home mixologist," he added, "all of these ingredients are easily attainable and can be found at most package liquor stores." While this cocktail has a number of iterations, this is the version Rodgers has found most successful:
1.5 ounces rye whiskey (Rodgers' standard is Rittenhouse Rye Whiskey)
0.75 ounce Campari
0.75 ounce sweet vermouth (Dolin Rouge or Carpano Antica)
Mix in mixing glass or 16-ounce pint glass filled with quality ice.
Tips: If you want a quality drink, start with quality ingredients. For instance, you don't need the world's finest vermouth, but you need to keep it refrigerated so it doesn't spoil. Also, carefully measure everything, using proper jiggers and bar-quality measuring devices.
Cafe Torino
by Kit Clouser, bar manager and bartender
at Liberty Street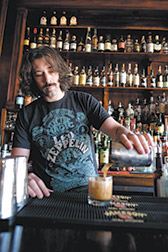 Clouser's contribution is a cocktail of his own creation. "It's pretty low in alcohol and has a little coffee in it," he said. "I think that makes it perfect for a nightcap or an I-need-to-pace-myself sipper."
1.5 ounces Cocchi Vermouth di Torino
1.5 ounces cold brew coffee
0.5 ounce Stirrings Blood Orange Bitters
4 dashes Angostura Bitters
Add all ingredients to a mixing tin, along with a level scoop of ice. Shake until the tin frosts. Pour the entire contents into whatever glass you like. Cut an orange swath with a knife or a veggie peeler, taking as little pith (the white part between fruit and skin) as possible. Rub the backside of the swath around the rim of the glass. This will put the orange flavor in your nose and in every sip.
Tips: Make this basic recipe, then feel free to experiment with different vermouths, coffees and bitters.
Negroni, Hotel Tango Style
by Ally Hall, general manager and beverage director at Hotel Tango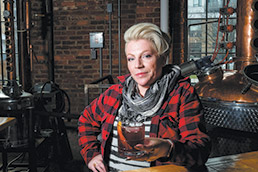 Because Hotel Tango is an artisan distiller, bartenders don't use outside spirits or cocktail additives such as Campari or Carpano Antica sweet vermouth. Fortunately, all the ingredients listed below are available from Hotel Tango.
1 ounce Golf Gin
1 ounce Hibiscus-infused Golf Gin
1 ounce Oscar Charlie Orangecello
0.25 ounce Luxardo simple
dash of Angostura Bitters
Build ingredients in a mixing glass, add ice and stir (about 20 revolutions). Single strain into a single rocks glass, with one large ice cube. Garnish with one expressed orange peel.
Tips: Home bartenders can try a slightly different combo: 1 ounce Hotel Tango Golf Gin, 1 ounce Carpano Antica Sweet Vermouth, and 1 ounce Campari.
New York Sour
by Joshua Gonzalez, owner/operator of Thunderbird Indy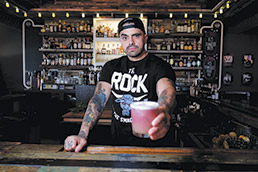 Gonzalez said the New York Sour is one of his favorite classics, and that Thunderbird always offers a variation on its menu.
2 ounces Evan Williams Bonded bourbon
1 ounce lemon juice
0.75 ounce simple syrup
0.5 ounce dry red wine
1 egg white
Add egg white, simple syrup, lemon juice and bourbon to a shaker tin and dry shake (without ice) for several seconds. Then add ice to the shaker tin and shake for 8-10 seconds. Strain into a double rocks glass with fresh ice. Slowly pour the red wine over the top of the cocktail.
Tips: Dry shaking helps the egg white emulsify, giving the drink a nice texture. Also, you can make your own simple sugar by heating equal parts water and sugar on a stove. 
A Proper Mai Tai
by James Lantgen, bartender at Bar One Fourteen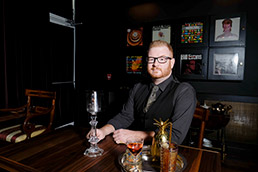 Lantgen can't seem to make enough of his personal spin on the classic mai tai, served in a brass, pineapple-shaped chalice. Even though Bar One Fourteen is open only three evenings a week and seats 20, max, he still makes about 50 every week.
1-1/2 ounces of blonde rum
0.5 ounce dark rum
1 ounce house-made falernum
0.5 ounce fresh blood-orange juice
0.5 ounce fresh lime juice
0.5 ounce orange carousel (the clearest possible, with the least sugar; a dry carousel)
0.5 ounce Grenadine made from pomegranates
Mix in a container filled to the rim with ice, then shake. Garnish with fresh lime or pineapple or any other tropical fruit.
Tip: The house-made falernum is a complicated brew Lantgen creates himself. For home bartenders, he advises substituting an equal measure of store-bought falernum or orgeat (an almond extract).•
Please enable JavaScript to view this content.