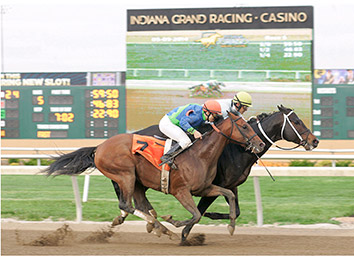 Indianapolis-based Centaur Gaming on Tuesday announced it would be sharing its federal tax cut with employees by giving each of them a $500 bonus check.
Centaur, which owns and operates Hoosier Park Racing & Casino in Anderson and Indiana Grand Racing & Casino in Shelbyville, said its 2,000 or so employees would receive the checks next week.
The bonuses are going to all full-time, part-time and returning seasonal team members who started with the company on or before March 5, the company said.
Centaur said it would cover any extra taxes or deductions brought on by the payments to make the perks a true $500 bonus.
The bonuses are part of a special "Bet on America" initiative to celebrate the passing of the federal Tax Cuts and Jobs Act, the company said.
"Centaur Gaming has the utmost confidence in the future of our country and we firmly believe this important tax cut and job legislation will have a positive effect on the gaming and racing industry in Indiana, as well as the American economy in general," the company said in written comments.
In addition to its facilities in Anderson and Shelbyville, Centaur operates Winner's Circle Pub, Grille & OTB in Indianapolis; Winner's Circle OTB & VooDoo BBQ & Grill in New Haven/Fort Wayne; and Winner's Circle OTB in Clarksville.
Please enable JavaScript to view this content.