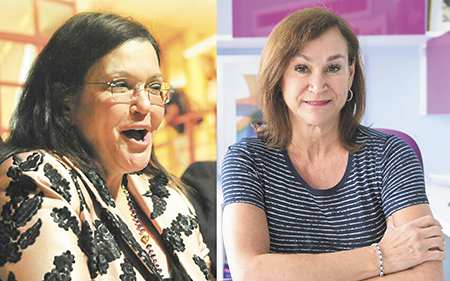 Carmel philanthropists and sisters Deborah Simon and Cindy Simon Skjodt have become big-time campaign donors this election cycle, and their contributions have landed both on a list of top political givers nationwide.
Deborah Simon has donated at least $2.9 million so far this election season, making her the ninth-highest individual donor in the country, according to a recent analysis by Bloomberg.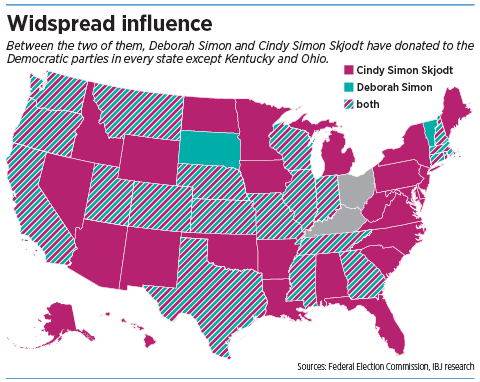 Cindy Simon Skjodt has donated at least $2.5 million to date, putting her 11th on the same list.
The women, who are daughters of the late Simon Property Group Inc. co-founder Melvin Simon, donate exclusively to Democratic candidates and left-leaning groups. The 2018 election cycle includes any donations since November 2016.
"I think they're a tremendous, tremendous resource," said Jeff Smulyan, CEO and founder of Emmis Communications Corp. and friend of the Simon family. "I have nothing but great respect and appreciation that they're stepping up and doing what they can to make a difference at a time when we really need it."
IBJ could not reach Skjodt or Simon for comment for this story, but the two are part of a family known for its longtime support of Democrats, especially Bill and Hillary Clinton. In 2015, shortly after hosting a Clinton fundraiser, Skjodt told IBJ, "I hate to be labeled as a Democrat or a Republican. It's just what I believe. If that makes me a Democrat, so be it."
Now, the sisters are the only women among the top 12 donors nationwide whose donations are not attached to a spouse.
Uline Corp. owners Richard and Elizabeth Uihlein are at the top of the list, giving $18.5 million primarily to Republican groups and candidates; Marcus & Millichap co-founder and Chairman George Marcus and his wife, Judith, rank fifth for donating $4.2 million to Democratic groups and candidates; and former Renaissance Technologies co-CEO Robert Mercer and his wife, Diana, are ranked sixth with their $3.7 million in donations primarily benefiting Republicans.
Everyone else on the top 12 list is a man.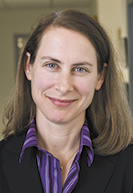 Krumholz
"It is fairly rare to see women listed as the principal source or sole source of donations in a family or single women giving significant sums and making the top list," said Shelia Krumholz, executive director of Washington, D.C.-based Center for Responsive Politics.
And the Bloomberg list might underestimate Simon's and Skjodt's political contributions. An IBJ analysis of campaign data from the Federal Election Commission shows the totals the two women donated might be as high as $3.3 million and $3 million, respectively. The FEC database provides raw data, rather than audited figures, so it's possible that could account for the discrepancy.
But even at $2.9 million and $2.5 million, Simon and Skjodt are contributing significantly more than they have in the past. In previous elections, both individually donated less than $100,000.
Family legacy
Melvin Simon donated to many Democrats throughout his life, including Bill Clinton, Al Gore and John Kerry. His second wife, Bren Simon, whom he married when the sisters were teenagers, is a former member of the Democratic National Committee. The couple entertained Bill and Hillary Clinton in their home. Bill Clinton gave a eulogy at Melvin Simon's funeral in 2009.
"I think their values are pretty much a continuation of the values the family has always had," Smulyan said about Simon and Skjodt.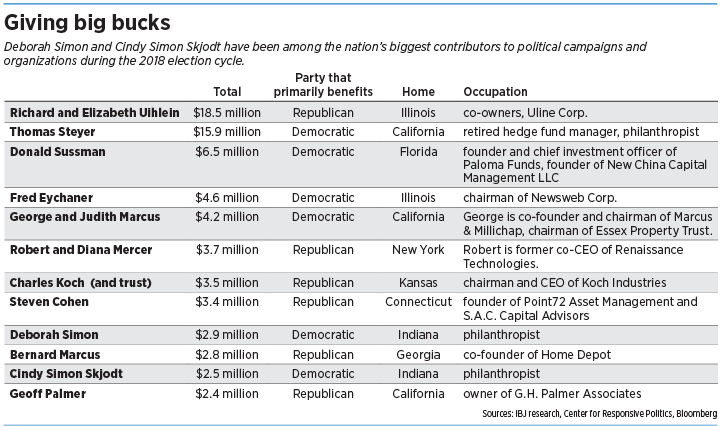 Skjodt hosted events to support Hillary Clinton at her Carmel home in 2000 and 2015. "I had Bill Clinton stay at our house when he was actually campaigning for [Hillary] when she was running for senator," Skjodt told IBJ after the 2015 fundraiser. "He was still sitting president. That was amazing."
"They have the same concerns that I do," she said.
Political analyst Brian Howey, who runs Howey Politics Indiana, attributed the spike in Simon's and Skjodt's donations to unhappiness among Democrats nationwide with Republican President Donald Trump.
"For key Democratic donors, there's a sense of urgency," Howey said. "I think it's only going to get more intense as we head into 2020."
Smulyan, who is also a Democrat, said Simon and Skjodt are among many Democrats throughout the country getting involved this election cycle, through donating money, volunteering for a campaign, or simply turning out to vote, because there is "a genuine concern of where our country is."
"I think Debbie's and Cindy's commitment kind of reflects that groundswell," he said.
A majority of the contributions from Simon and Skjodt went to national groups, rather than individual candidates, which is likely due to federal campaign finance restrictions. Individuals are not limited on how much they can donate to super PACs, but they face restrictions on how much they can give to candidate committees and state party committees.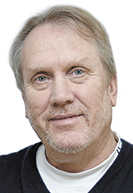 Howey
The biggest donations from both women went to the Senate Majority PAC, formed in 2011 to support Democratic Senate candidates. Simon donated $2 million, while Skjodt contributed $1 million.
Other large donations from Simon include $729,000 to the Democratic Grassroots Victory Fund and $227,300 to the Democratic National Committee.
Skjodt chose to give $500,000 to American Bridge 21st Century and $339,000 to the Democratic National Committee.
Howey said he wasn't surprised to see Skjodt and Simon donating heavily to national PACs, because those deep-pocketed groups are "crucial" when it comes to spending in elections.
Between the two of them, the sisters have also donated $10,000—the maximum allowed to state party committees—to every state Democratic party except in Kentucky and Ohio.
'A lot of recipients'
Only a fraction of their money has been spent directly in Indiana—the only Indiana candidates to receive direct support from either woman this election cycle are U.S. Rep. Andre Carson, and 9th Congressional District candidates Liz Watson and Dan Canon.
Skjodt also donated $5,400 to U.S. Sen. Joe Donnelly's campaign in 2014, which isn't technically within this election cycle, but does count toward his current campaign because it was made after Donnelly's first election in 2012.

Simon has not given directly to Donnelly's campaign, but her $2 million donation to the Senate Majority PAC will help. That PAC is currently spending $1.8 million in TV ads and $600,000 in digital advertising in Indiana and Missouri to support Donnelly and Missouri Sen. Claire McCaskill.
"There are a number of ways that she might be active without there being a direct line between her and the candidate," Krumholz said.
Simon also gave directly to 14 out-of-state candidate campaigns. Skjodt did not donate to any specific candidate campaigns outside Indiana.
"They're both giving a lot of money to a lot of recipients," Krumholz said.
Howey said it's important for Democratic candidates in Indiana and elsewhere to maintain a good rapport with the Simons, especially Democrats in a Republican-controlled state.
"Their influence within the Democratic Party is huge … both within Indiana and nationwide," Howey said. "For the Indiana Democratic Party to become relevant again, they're going to rely on people like Simon and Skjodt so they can get the candidates back in the game."
Leaders at several political organizations—including the Indiana Democratic Party—declined to be interviewed for this story.
Krumholz described wealthy donors like Simon and Skjodt as "mini-banks" because they "are the key sources of campaign cash."
Often, such donors live in major cities like New York, Chicago, Miami, Dallas and Los Angeles, but Krumholz acknowledged it takes only a couple of key donors to put a place like the northern suburbs of Indianapolis on the map.
"This is a red state," Howey said. "You don't have a lot of Democratic donors, and it's also the state of the vice president … . I think that their participation is significant."
So how much more could we see the sisters donate? Hard to tell, but some mega-donors have given nearly $100 million in past election seasons.
"The sky's the limit in terms of the law now," Krumholz said. "It comes down to how vast the resources of the donors are and whether they view it as a good investment."•
Please enable JavaScript to view this content.