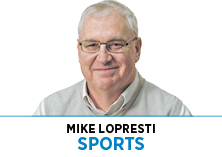 Here was the working theory: While the serious hardware gets handed out later, sectional week is still the beating heart of the Indiana high school basketball tournament.
That's because it's all over the map, from the packed house of nearly 8,000 in Seymour watching New Albany's Romeo Langford, to all the Amish buggies parked outside the gym at Westview, because the 26-1 home team inside has every demographic excited.
So we went to find some of the stories of sectional week.
Tuesday in Hagerstown …
"I would say my anxiety is on high right now," Laschelle Hatcher says. No wonder. She's two hours away from making history. When the Northeastern-Winchester game starts, she will become only the second woman ever to referee a boys' sectional, and the first African-American woman.
Hatcher is 5 foot 6 inches tall—maybe—and never played basketball in high school back at Fort Wayne Wayne. Preferred softball. But she fell in love with officiating basketball when she directed a church league, and now here she is. You should have heard her when the phone call from the IHSAA came to her office a few weeks ago—she's human resources director for a health care company—informing her she had been awarded a sectional.
"People were knocking on my wall, asking 'What are you screaming about? What is going on over there?'"
Now she's in Hagerstown, relieved in a way that the game is not so close to her Indianapolis home.
"I think this was good for me, so I can get my feet wet. … I wanted to be somewhere where nobody really knows me and do the best job possible. I just want to stay low-key. There's enough attention already with me being a woman, and me being a black woman, and then not being very tall."
She thinks back to her first boys' game—that awful night maybe six years ago at Blue River. "I thought I was ready because I knew the calls. But when you get out there and you're the only woman and then this is my first competitive game. Should I call it, should I not call it? It let me know that there's still a lot to learn.
"I couldn't wait until halftime. I just wanted everything to stop. My partners told me to get it together. 'You're going to be OK; don't be intimidated.' Then I was able to breathe and I had a much better second half, but that's one game I will never forget."
And now she's working a sectional.
"You have all these mixed feelings. You do become nervous. But you also feel like you're laying the foundation for someone else."
When she walks onto the court, the Winchester cheerleaders applaud her. Her fellow male officials invite her to toss the ball for the opening tip to mark the occasion. Northeastern wins 49-41. It is a smooth game, with no controversy.
"We've had her before and she's really good," Northeastern Coach Brent Ross says. "I think an official is a great official when they control the game, but you don't even know they're really out there. I didn't notice she was out there."
Hatcher feels good about the night. "After the first whistle, the anxiety was gone." She puts a game program into her bag as a keepsake. Before she leaves, two Northeastern student managers, both females, stop her to shake hands. They want to tell Hatcher how thrilled they are to see her there.
Wednesday at Paoli …
It was March of 2012 when the killer tornado blew through Henryville, nearly destroying the school, and the town. Nick Walker was in sixth grade and huddled with others in a closet at home, praying the storm would leave their house standing. Six years later, he's the leading scorer on the 20-3 basketball team.
The Hornets went 0-20 and 3-18 in the seasons after the tornado, but native son Jared Hill came in as coach and now the community is in a frenzy, united by winning as it once was by tragedy.
"It means everything to those people," Hill says. "Especially my grandma. My grandma's 84, she's in a wheelchair, and she comes to every game. It's Indiana. People love their basketball. I am just happy I can be their coach. I wanted to be the head coach at Henryville when I was 16."
Walker scores 21 points in a 73-60 win over 21-2 Paoli. It's been 13 years since Henryville won a sectional, and now the masses can sense the end of the wait.
"Look how many people are in the stands. The whole community came out to watch us tonight. We're their pride and joy, I think," Walker says. "Hopefully, we can finish the job off for them."
Alas, it is not meant to be. Two days later, the Hornets are beaten 57-48 by Clarksville—on the sixth anniversary of the tornado.
Friday at Lafayette …
Here is the only place where you can find two sectionals, five minutes apart. First, McCutcheon is taking on Lafayette Jeff, and notice the woman in the concession stand in a white shirt. In big letters on the front—"Blessed." On the back, "Phinisee's mom."
Tanika Phinisee's four sons all play basketball, and it is her third—Robert—who is of particular interest at the moment. The high-scoring McCutcheon senior is bound for Indiana University. Most seasons, he would be getting the state's big headlines. But this is the Year of Romeo in Indiana.
Tanika doesn't mind. "I think it's almost like what we prefer. I really don't like being out in the spotlight; Robert doesn't like being out in the spotlight."
Matter of fact, she and her family don't sit down near the court, but up in the balcony. "I like my space," she says. After getting popcorn for her grandson, she watches Robert score 34 points and get 16 rebounds in a 67-53 win. If not for Langford, her son would be the favorite for Mr. Basketball. She more or less shrugs. "I realize that." But so it goes in the Phinisee home. The night his sophomore season that Robert got a call from Tom Crean offering an Indiana scholarship, his mother congratulated her son. Then she reminded him it was his turn to do the dishes.
(Her son's high school career would end this week in a loss to Zionsville, which won its first sectional since 1995, when it was led by a skinny guard named Brad Stevens.)
Eleven blocks away, Southwood fans in red are buying tickets at the Lafayette Central Catholic sectional. Where's Southwood, a ticket seller asks? "South of Wabash," a man answers. "Way too far away to be here."
Southwood dropped to 1A this season and had a strong returning team with postseason designs. But the Knights were promptly shipped more than 70 miles to the Central Catholic site—where the home team owns the state's longest sectional title streak: 16 years. The decision did not win rave reviews at Southwood. The two teams will meet this Friday night, for the first time in history.
It's a terrific game, back and forth, won by Southwood in the end 70-66, with 26 points from guard Peyton Trexler. A huge Southwood throng has made the trek—nearly three hours, roundtrip—and afterward, Coach John Burrus hugs nearly every one of them.
"Central Catholic has been a juggernaut. Sixteen straight sectionals. So you have a lot of history going against you," he says. "I knew they were going to be a load. But our kids are a load, too."
And the decision by the IHSAA to send his team here? "It was frustrating. It's a process—you work through it. Then you basically say, 'OK, that's where we're at; we're going and we'll make the best of the opportunity.'"
By Saturday night, Southwood will be sectional champion. To survive the week requires three victories—and more than nine hours in a bus.
Saturday at Lapel …
Ninety minutes before the game, the lines are already long outside the Lapel gym, which stands nearly in the shadows of the town water tower. It's Lapel vs. Frankton—matching the past two 2A state champions, who are 13 miles apart. They have knocked each other out of the tournament three years in a row and are dead-even in their series over the past 30 years.
Inside, Lapel Coach and Athletic Director Jimmie Howell watches the masses roll in. "I've been a lot of different places. I think this is as good as any rivalry in the state. I think the last seven or eight years, the team that won this was capable of winning the state."
He is a Lapel native, so he understands the depth of feelings. The painted faces on the kids. The old man who walks by wearing a red Frankton cap, with pieces of basketball net from past championships attached to the bill. The little girl in Lapel black waiting outside who looks in wonder at the long lines, asks her mother how many people are there and is told, "They're from Frankton, so they don't count."
Howell: "They've tried a couple of times to consolidate into one school, and neither town would put up with it. They were afraid they would lose their identity. That was put to rest many years ago and even though it gets brought up every once in a while, I don't think it's ever going to happen in our lifetime."
Defending state champion Frankton is 22-3 and won their season meeting by 12 points. Lapel is 13-12. So much for what's on paper. Lapel blows a 13-point lead in the fourth quarter, but wins 67-65 in overtime, as a would-be tying shot rolls in and out at the buzzer.
Maybe the tournament has lost a step, between modern-world diversions and class basketball. But do people still care about sectional week? You should have seen the looks on the faces of the Frankton fans Saturday night.•
__________

Lopresti is a lifelong resident of Richmond and a graduate of Ball State University. He was a columnist for USA Today and Gannett newspapers for 31 years; he covered 34 Final Fours, 30 Super Bowls, 32 World Series and 16 Olympics. His column appears weekly. He can be reached at mjl5853@aol.com.