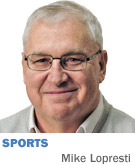 It's March, and in college basketball, these are among the most haunting of words.
What if?
Those involve the moments dreams died. They're like scars; once you get them, you have them for good. Here's a top-10 list of foul-fated days for Indiana teams.
No. 10. Kansas State, 73; Purdue 70, in 1988.
The Sweet 16 game was not two minutes old, and Purdue led 10-0. It turned out to be a mirage.
What if … the Boilermakers had played anything close to the way they did all season in earning the No. 1 seed in the Midwest region? That start doesn't get wasted, against Gene Keady's alma mater no less.
What we forget: The two teams met earlier in the season. Purdue won 101-72.
No. 9. Florida, 69; Butler, 68, in overtime in 2000.
Mike Miller's driving buzzer-beater in the first round saved the Gators, who went on to play in the national championship game.
What if … the Bulldogs had not missed two free throws with 8.1 seconds left, leading 68-67? It could have been Butler's first ground-shaking NCAA Tournament upset. The shooter was, well, the guy coaching the Bulldogs now. LaVall Jordan. Barry Collier was the coach then. Seventeen years later, Collier would hire Jordan. Guess he's forgiven him.
What we forget: In the years after, Billy Donovan began to assemble the Florida team that would win national championships in 2006 and 2007. He said his recruiting was helped by the buzz from 2000. No buzz, maybe no titles. Butler might have changed Florida's future that day, not to mention its own.
No. 8. UCLA, 67; Purdue, 62, in 1980.
It was the first Final Four in Indianapolis, and Purdue's getting to the championship game so close to home would have been magical. Ask Butler.
What if … Joe Barry Carroll had hit a turnaround jumper—the kind he liked—with Purdue down one point and 1:50 to go? The Boilermakers would have had the lead, and UCLA the pressure.
What we forget: The third-place game was still around back then, and Purdue beat Iowa 75-58.
No. 7. Duke, 69; Purdue, 60, in 1994.
Glenn Robinson was the nation's leading scorer and had just put 44 points on Kansas in the Southeast regional semis in Knoxville. Gene Keady had the star, and the No. 1 seed. Time at last for his Final Four?
Nope. Duke defended Robinson into 6-for-22 shooting, holding him to 13 points.
What if … Robinson had not strained his back in the Kansas game? He wasn't 100 percent, and he needed to be all of that against Duke.
What we forget: Robinson wasn't the only Boilermaker off his game. Cuonzo Martin scored 29 against Kansas, 12 against Duke. So in two days, that duo went from 73 combined points to 25.
No. 6. Duke, 81; Indiana, 78, in 1992.
Indiana was up on Duke by 12 points in the first half in the Final Four. Then, kaboom. The Blue Devils went on a 31-6 tear, helped partly by a questionable technical foul on Bob Knight by Ted Valentine that galls some in Hoosierworld to this day. Still, Indiana almost rallied at the end when Todd Leary came off the bench to hit three 3-pointers in 27 seconds.
What if … Duke had not camped out so often at the free-throw line, it reminded you of Krzyzewskiville? The Blue Devils shot 42 free throws, the Hoosiers 16.
What we forget: Christian Laettner was coming off his game for the ages in the 104-103 overtime classic with Kentucky, scoring 31 points, hitting the most famous shot ever made in the NCAA Tournament. Indiana turned him mortal. He was 2-for-8 with eight points.
No. 5. Connecticut, 53; Butler, 41, in 2011.
The Bulldogs had a six-point lead early in the second half of the national championship game. Then the music stopped. They went 13:26 without a field goal and ended up shooting a historically bad 18.8 percent for the game. "We kept telling each other, 'Just keep shooting, some shots are going to go in,'" Matt Howard said. "It just wasn't happening."
What if … Butler had managed to hit 30 percent? Still awful, but maybe enough.
What we forget: Butler had only six turnovers and defended UConn into 34.5 percent shooting. Championship numbers—but not when you're missing layups.
No. 4. UNLV, 69; Ball State, 67, in 1990.
UNLV could be unstoppable, as the Rebels would show by crushing Duke 103-73 in the national championship game. But Ball State never let them get rolling and had a chance to tie or win this Sweet 16 game in the final seconds.
What if … point guard Scott Nichols had not fouled out just before the final possession? With their floor leader gone, the Cardinals committed a turnover on their last chance.
What we forget: The two teams nearly brawled leaving the court. The Cardinals said UNLV was taunting them, and they were having none of that from a team lucky to escape.
No. 3. Michigan State, 75; Indiana State, 64, in 1979.
Bird vs. Magic, Chapter 1. The national championship game ended with Larry Bird sobbing into his towel.
He never could get going against the Spartan zone, shooting 7-for-21, and blames himself even now. But he had 19 points, 13 rebounds and five steals. Not as if he didn't show up.
What if … Indiana State had not gone 10-for-22 from the free-throw line? That killed any chance the Sycamores had.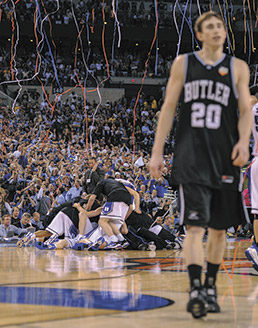 Duke players celebrated as Butler's Gordon Hayward walked off the court after missing a last-second three-point shot that gave Duke the 2010 national championship. (AP photo)
What we forget: Indiana State could have lived with Magic Johnson's 24 points. But not Terry Donnelly, who averaged only seven points a game, but went 5-for-5 for 15.
No. 2. Kentucky, 92; Indiana, 90, in 1975.
The Hoosiers were 31-0, closing in on a perfect season. It was an epic regional final; Kent Benson scored 33 points with 23 rebounds.
What if … Scott May had been healthy? The All-American tried to play with a cast on his fractured wrist but lasted only seven minutes. And they say Andrew Luck's injury has been costly.
What we forget: Kentucky's leading scorer that day with 22 points was Mike Flynn, Indiana's Mr. Basketball in 1971. The Hoosiers were done in by one of their own.
No. 1. Duke, 61; Butler, 59, in 2010.
Really, what else could be No. 1?
What if … either of Gordon Hayward's shots in the final four seconds of the national championship game had gone in?
It would have finished off the greatest Cinderella story ever told in the NCAA Tournament, right there on Capitol Avenue. By the way, notice that Duke has its fingerprints all over this list, with three of the 10.
What we forget: Hayward was 2-for-11, so he had his frustrations before that last Hail Mary bounced away. "I think it's going to motivate me," he said afterward. Presumably, he meant a return shot the next year, but then left for the NBA.
What if he had been there in 2011 … never mind; we could do this all night, going down the list no one wants to join.•
__________
Lopresti is a lifelong resident of Richmond and a graduate of Ball State University. He was a columnist for USA Today and Gannett newspapers for 31 years; he covered 34 Final Fours, 30 Super Bowls, 32 World Series and 16 Olympics. His column appears weekly. He can be reached at mjl5853@aol.com.
Please enable JavaScript to view this content.