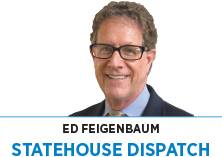 There is a certain sense in the air, much like the almost imperceptible difference in atmosphere when seasons transition, portending change afoot as well in the General Assembly.
The fun stuff (Sunday sales) was decided early, heavy-lift major items either fell off the table (e.g., hate crimes) or were delayed to the final day of the session (gun laws), and the big-ticket agenda package (workforce development) proved a decidedly unsexy issue not engaging the rank-and-file.
Therefore, a sense of ennui pervaded March, perhaps exacerbated by so many lawmakers—including Senate President Pro Tem David Long, R-Fort Wayne—riding off into the sunset this fall.
Quick confirmation of this theory can be had by a glance at conference committee assignments this month. 
Longtime readers might recall how we used to analogize conference committee time to the last few minutes of National Basketball Association playoff games. 
The first three quarters of such contests were mere prelude to getting situated for the final minutes.
In that short space of closing time, you could dismiss all your assumptions for what might transpire given action to that point in the game.
At that point, the game had effectively been turned over to the top players to do their thing, based upon a few quickly whispered words of direction from the coach and teammates in a final huddle, the hardcourt equivalent of a legislative caucus.
You could count on a literal handful of key lawmakers—the savvy and skilled veterans who were to their respective caucuses what Reggie Miller was to the Indiana Pacers—to be tapped for the responsibility of scoring that legislative winning shot in a tied game. 
They would use their experience, tap into fellow caucus members, and draw upon their knowledge of the rules, referees and what the other players had done to that point to help them drive to the basket in the final seconds, splitting the defense with an emphatic slam dunk.
That would also help make it clear who would be the Big Dog at the start of the next season—or session.
But, as we've been pointing out through the year, times are changing in the Legislature. 
With so many leading lawmakers with long years of experience in conference-committee deliberations leaving and being replaced by those who have played only supporting roles in recent sessions, we're seeing a change in how conference committees operate.
So many more conference committees this year appeared populated with members to whom the whole experience is relatively new at best. 
While legislative leaders still sought to install their best and brightest in the veritable handful of key conference committees (those with real issues to be ironed out, or where a leadership initiative needed to be pushed through), the broader roster of appointees better resembled a training camp invitation list than a playoff roster.
Some of the unfamiliar players include those with whom leaders have developed a degree of trust and sought to give a taste of the legislative playoff experience to help them become prime-time players going forward.
Lots of solons were added to March conference-committee panels as "advisers"—a means for them to experience the intensity firsthand, if only on the bench. 
The "adviser" phenomenon has grown seemingly exponentially in recent years as a way to bring more than one person from each caucus aboard in final negotiations and to broaden inclusiveness. 
At the same time, some less-experienced legislators were also added to a conference-committee lineup off the bench in a regular capacity because of a particular "skill"—great defense, an understanding of a particular offensive scheme, or because they would unquestionably execute the coach's orders.
Conference-committee time is always fascinating for the creative play-making by the legislative "Reggies," but this year it seemed like we were watching a new generation of players—a developmental league?—preparing for the end game in future sessions.•
__________
Feigenbaum publishes Indiana Legislative Insight for Hannah News Service. He can be reached at EDF@hannah-in.com.
Please enable JavaScript to view this content.