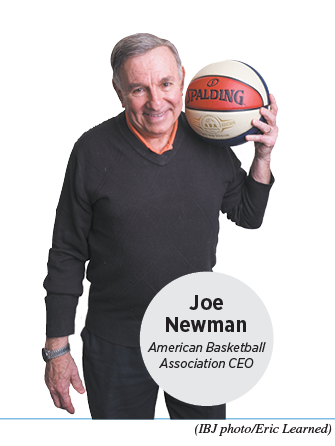 Joe Newman turns 81 this month but has no plans to slow down. He's restarting his advertising career (from 1963-1983, he wrote ads for the Indiana Pacers, Indiana Black Expo, HHGregg, Shane Co., Don's Guns and more), with two clients already signed.
And he's pushing forward with his new version of the American Basketball Association. He said he bought the rights to the ABA moniker from the NBA for $50,000. And though the first local team in the league folded and the current team—the Indy Naptown All Stars—is dormant, the Indianapolis-based ABA continues to bounce along.
What's going on with the ABA?
The ABA is growing and has become the largest professional sports league in the country. We just ended our 17th regular season. We played with 120 teams this year and next year we already have 140 teams. In terms of the league structure, it's modeled closer to college basketball than the NBA. We're in every major city in the United States. And we just completed our first season of the WABA, which is our women's league. We now have an ABA in Australia and Mexico. After the [postseason] concludes [April 7 in Austin, Texas], we're going to be announcing ABA Dominican Republic, ABA Cuba, ABA Brazil and ABA Kenya. We're working on ABA Puerto Rico, too.
What's the financial status of the teams and the league?
The [financial status] goes from extremely good to not as good. The status of the league is very good. The story of the ABA is this: We are the most diversified professional sports league in the world. Seventy-five percent of my owners are minorities—African-American, Hispanic, Asian or women. We have disabled owners and many [military] veteran owners. Diversity, inclusion and opportunity are the backbones of the ABA.
Is the ABA competing with the NBA?
Why would you want to come in and submarine—or even attempt to submarine—an icon? We're coexisting.
How much does it cost to operate a team?
We've changed that model over the years. The franchise fee used to be $20,000; now it's $2,500. I make it easy to own a team. The player payroll has come way down, too. You can operate a team in this league for $75,000 a year.
How do you attract players to play in your league?
Some of our players make as little as $25 to $50 a game; some get as much as $3,000 a month, depending on the team. It's not about the money for the players. What the players are playing for is competition, exposure and an opportunity to go to the [NBA's] G League or get an international contract.
What keeps you going?
I've never seen work as a chore. I like doing what I do. I don't like being a carpenter and I don't want to garden. I'm not an idle mind that can go out and play golf four times a week. That's why I'm going back into the advertising business. I like it and I like to write.
What are your plans in advertising?
I'm not going to have a big building or any staff. There are guys I know that are going to go out and try to get me accounts, and I'm going to give them a 50 percent commission. To get my wife, Connie, to go along with this, I told her she can put every nickel in her account. I'm not doing this for the money.
Do you have any clients?
I'm working with Coast to Coast Imports [auto dealership] in Fishers and Sangiovese [Ristorante]. I'm working on radio spots and soon to be TV spots. That's just the beginning.•
Please enable JavaScript to view this content.