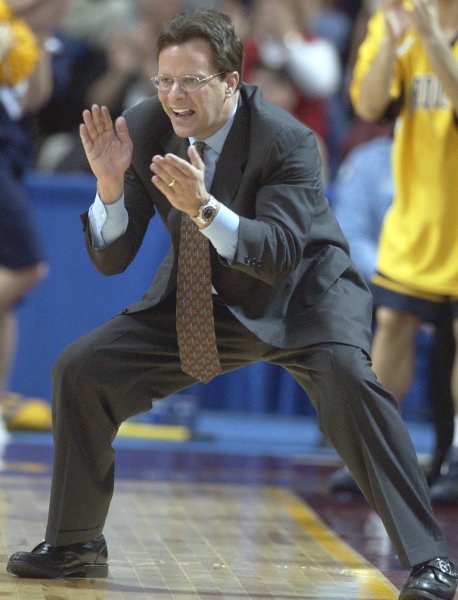 The University of Georgia hired former Indiana University coach Tom Crean as its men's basketball coach on Thursday, capping a fast-paced search only five days after firing Mark Fox.
Crean was hired by athletic director Greg McGarity one day after former Ohio State and Butler coach Thad Matta withdrew from consideration despite a reported offer of $16 million over five years.
McGarity described Crean as "one of the most successful coaches in college basketball over the past two decades."
The Athens Banner-Herald reported Crean agreed to a six-year deal with Georgia worth $19.2 million.
Crean was 356-231 in 18 seasons at Marquette and Indiana from 1999-2017. He led teams to nine NCAA appearances, four Sweet 16s and the 2003 Final Four with a Marquette team led by Dwyane Wade.
"His teams have consistently been participants in postseason play, and his players have been extremely successful in the classroom," McGarity said. "He's going to be a great fit for the University of Georgia."
Crean was 166-135 as Indiana's coach from 2008-17 but his tenure was plagued with inconsistency and his Hoosier teams never advanced past the Sweet 16 in the NCAA tournament.
He took over a program facing NCAA probation and scholarship restrictions. After a 28-66 record in his first three seasons, Indiana was 138-69 in his final six years, including Big Ten Conference championships in 2013 and 2016. Crean was fired a year ago after IU went 18-16 (7-11 in the Big Ten) and failed to make the NCAA tourney.
He was replaced by former University of Dayton coach Archie Miller.
Fox was fired Saturday after earning two NCAA Tournament bids in nine seasons.
Crean, who will turn 52 on March 25, said Georgia, best known for its football tradition, also can challenge for national titles in basketball.
"Make no mistake, this is a basketball program inside of a great university that can compete for championships doing it the right way," Crean said in a statement released by Georgia. "We will work diligently and with great energy to make everyone associated with the University of Georgia very proud of our efforts."
Georgia has scheduled a Friday news conference to introduce Crean.
Please enable JavaScript to view this content.