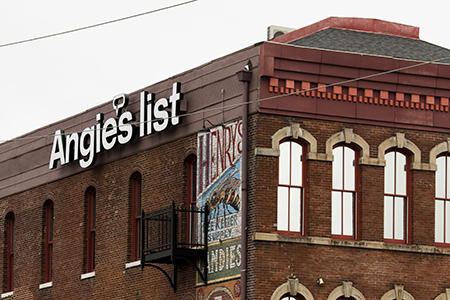 An investment group headed by a co-founder and former CEO of Angie's List Inc. has closed on the sale of the company's 17.5-acre campus east of downtown, the group announced Friday morning.
IBJ reported on Feb. 12 that the group, led by former Angie's List CEO Bill Oesterle, had struck a deal to buy the property. His team includes John Chuang, an early investor in the company, as well as Peter Coolidge, a founder of Angie's List.
Also in the group are Mickey Maurer, a co-owner of IBJ Corp. and a former Angie's List director; Nathan Feltman, an IBJ Corp. co-owner and former state secretary of commerce; and John Thompson, chairman and CEO of Thompson Distribution Co.
The buyers declined to disclose the purchase price.
Chuang, CEO of Boston-based Aquent, envisions the campus as a "playground for the creative and the innovative."
"We want to create something far more than office space," he said in a press release. "The space offers so many kinds of uses, and we want to fill it with like-minded people leading innovation in the arts, tech, sciences, agriculture, non-profits, you name it."
Colorado-based ANGI Homeservices listed the site for sale in early October. Located in a transitioning section of downtown's near-east side, the campus has helped anchor and revitalize the Holy Cross neighborhood and adjacent areas.
ANGI Homeservices debuted as a public company Oct. 2 in a merger of Angie's List and rival HomeAdvisor. The two brand identities were retained in the merger. Possession of the property is expected to transfer to the new owners in a few months, after Angie's List workers transition to new downtown office space.
"I have a long and wonderful history with this corner of the city," said Oesterle, in the release. "I can't wait to see it fill out again with all kinds of creative people working on projects that will amaze us all."
Oesterle stepped down as CEO of Angie's List in July 2015. He co-founded the company with Angie Hicks in 1995 and led it through an initial public offering in 2011.
The local office of Chicago-based real estate firm JLL listed the property and accepted offers. The brokerage received offers from four other bidders, real estate sources said.
Please enable JavaScript to view this content.