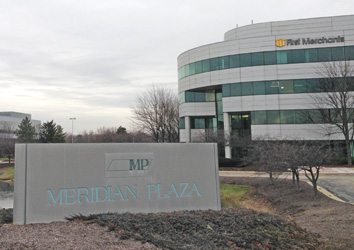 Two high-profile office buildings along Carmel's North Meridian Street corridor have changed hands following extensive renovations from the previous owner.
Chicago-based M&J Wilkow announced earlier this month that it bought two of the three office buildings in Meridian Plaza from another Windy City-based firm, Zeller Realty Group. Terms of the deal were not disclosed, but local real estate brokers pegged the price between $32 million and $34 million.
Zeller bought the three buildings in November 2013 and sold the one farthest north the following year to Bastian Solutions for $6.6 million. Bastian is a local subsidiary of Japan-based Toyota Industries Corp. and makes automation products for the material-handling industry.
The 65,688-square-foot building sold to Bastian is smaller than the two bought by M&J Wilkow, which together total 236,375 square feet. They are 86 percent occupied, Zeller Realty said. The 39 tenants include Assurant Health, First Merchants Bank and Hylant Group.
"We are pleased to re-enter the Indianapolis market with the acquisition of this high-quality asset," Julie Flanzer, vice president of asset management for M&J Wilkow, said in a press release. "Meridian Plaza is in an excellent and easily accessible location situated at the intersection of I-465 and Meridian Street. While the property was recently renovated, we plan to improve upon and market these improvements to drive lease-up of the remaining vacancy."
The sale of the two four-story office buildings includes 805 surface-parking spaces. M&J bought the property in a joint venture with a fund managed by New York City-based DRA Advisors LLC.
Meridian Plaza, on the east side of Meridian between 103rd Street and 106th Street, was constructed between 1985 and 1989.  
In late 2013, Zeller purchased the loan out of foreclosure for the three-building complex, which was 52 percent occupied at the time. Public records showed Wells Fargo had a $36 million judgment against former owner ARI-Meridian Plaza LLC. Real estate observers then estimated the market value of the complex to be $20 million.
"They were extremely beat down, and they were vacant," Adam Broderick, managing director of JLL's local office, told IBJ. "Zeller did a great job with them."
Zeller undertook full lobby and corridor renovations, exterior improvements and upgraded landscaping, and added amenities such as collaborative break-out spaces for tenants, a conference/training facility, outdoor patio spaces and a new health center.
"The growth and activity we have seen in Carmel has contributed to our success at the property," Tristan Glover, a Zeller senior vice president, said in a press release. "We've been investing on Meridian Street since 2001, and the outlook continues to get better."
Zeller also owns Meridian Mark I and II, at Meridian and 116th streets.
JLL sold the buildings on behalf of Zeller. Along with Broderick, Jim Postweiler, Peter Harwood and John Robinson were the brokers involved in the deal.
M&J Wilkow's portfolio consists of 41 office and retail properties totaling 9.3 million square feet and valued at more than $1.7 billion.
—In other local real estate news:
New York City-based Time Equities Inc. has acquired a seven-building, small-bay industrial complex on the east side for $8.25 million. Lincoln Business Park, near Interstate 465 and north of the Interstate 74 interchange, totals 242,700 square feet and has more than 40 tenants.
"From an investment standpoint, we acquired a stabilized asset in a coveted location and look forward to making a number of capital improvements to best service our existing tenants and the small businesses in search of warehouse space," Brad Gordon, Time Equities' director of acquisitions, said in a press release.
Available spaces for lease at Lincoln Business Park range from 1,000 square feet to 40,000 square feet. Tenants include small businesses, general contractors and research labs.
Colliers International is managing the property.
Please enable JavaScript to view this content.