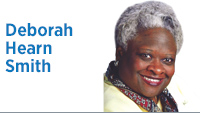 It is important to understand first that I was raised here in Indianapolis by a remarkable father who was a gun owner.
My father was an ardent sportsman. His passion was hunting and fishing. He believed the sport allowed both man and animal to live in harmony, never hunting for more than you could consume. The kill was not a trophy-seeking adventure but a return to the natural order.
Guns were, therefore, a tool of the trade. Guns were carefully selected based on the intended prey. As such, certain guns for the sportsman were off limits. Guns and bullets were never together for safety reasons in the home.
I have vivid memories of the gun case in our home Each weapon had its uses: for deer and rabbit hunting in Indiana, bear and elk out West.
There were no pistols or AK-15s. Neither are intended for the sport of hunting. The intended use for each is to kill humans, which to my father's eye was unthinkable.
He kept the ammunition for his rifles under lock and key in a secret location. As his children, we never were even curious as to the location.
On weekend family campouts in Brown County, all of us practiced shooting cans off a log. Not to brag, but I was pretty good. But I froze on my first hunting trip when confronted by Bambi. That was the end of my hunting career.
Why do I go to such length to explain my history with guns? Because I want to establish that not all of us who support gun control have negative views about all guns.
I support those who find the sport of hunting enjoyable. I understand that certain rifles are tools for that sport.
However, I cannot find any reason a person in a civilized society needs a weapon whose sole purpose is the killing of fellow humans. This is especially true of guns designed for mass killing, as done in combat. Why is the right for weapons to kill multiple people sacred?
I am not suggesting all guns be banned, but I am supporting proposals that all guns that have as their sole purpose killing in mass be banned.
My great hope is that, once again, as in times past, the youth will show us the way. Only a few generations ago, parents smoked around the children, cars had no seat belts, and bike helmets were unheard of. When we understood the harm to our children, we changed.
As our children now go to school and practice how to survive gun violence, maybe we grown-ups will learn that their welfare is more sacred than our guns.
It is my prayer that assault weapons join this list of items that have lost their place in our world.
Just maybe we will come to recognize that the right to attend school, a concert or a great movie should be as safe as riding in a car. Seat belt required, no guns allowed.•
 
Click here for more Forefront columns.
__________
Hearn Smith is former CEO of the Girl Scouts of Central Indiana. Send comments toibjedit@ibj.com.
Please enable JavaScript to view this content.