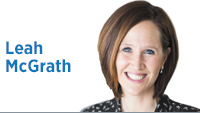 My wish for you is a lifetime of insatiable curiosity.

I say that to my boys, and recently it was how I began a conversation with a class of seventh-grade students gathered to discuss "careers."

It can be daunting to talk to 13-year-olds about career options—not just because they are 13, but because job options of the future are evolving. These young teenagers will likely have multiple careers and be employed in at least a few jobs that haven't even been dreamed of yet.

So, the challenge we have as parents and educators is that we need to talk about more than careers. We need to focus on what kind of thinkers our children need to grow up to be. Put simply: My wish is for insatiable curiosity.

To be sure, students need to understand the fundamentals of reading, writing, arithmetic and now computer science (kudos, Gov. Holcomb!). But, the skills we need them to master are how to be problem solvers, adaptable quick learners and compassionate citizens who have the knowledge to dream the next dream.

How we educate our students needs to evolve. How can we empower teachers and a community to provide experiential, immersive learning that produces the outcomes we need for our future? That's the question the city of Fishers is trying to tackle in partnership with Hamilton Southeastern Schools and Conner Prairie as they together strive to create a citywide campus for all students. I am eager to watch this idea grow and for a community to open its doors to become a partner in educating. I am excited to see curiosity inspired.

Change in the workplace and the kind of preparation needed to be successful doesn't affect just our youth. A generation of adults in the workforce is already facing this very reality. The jobs people used to have, the ones I grew up surrounded by in Anderson, are gone. The answer has long been focused on training for 21st century skills. But it's a retraining of our thinking that also must occur. We need to reignite a curiosity that can be fragile and stifled, if not nurtured and stoked.

Being curious might not be perfectly synonymous with being entrepreneurial, but I don't know any entrepreneurs who aren't insatiably curious. Having an entrepreneurial mind-set is appealing not just because it's a cool, techie thing to be. It's appealing because it's so refreshing and full of hope. It means things don't have to be the way they are, and whatever the situation, it can be better. This mind-set has the potential to drive change for the better in education and policymaking, too, if we are open to it.

I'm excited for our youth. Although the future is unknown in many ways, it is full of potential. Fueled by curious minds and advanced technology, our youths will have at their grips the possibility of new solutions that could touch every facet of our lives from how we educate to how we provide health care to how we govern and more.

I asked my sons what they thought I meant by the idea of lifelong, insatiable curiosity. Their responses: "Always ask questions," and, "Wonder about things." Wonder away, my dears. But then do something with that wonder. Do something wonderful, inspiring and fulfilling—and then wonder some more. That's our future.•


Click here for more Forefront columns.

__________

McGrath is deputy mayor of the city of Fishers and is vice chairwoman of the Indiana Republican Party. Send comments to ibjedit@ibj.com.