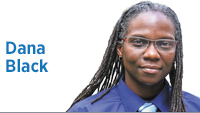 Leadership.

When we hear this word, many of us conjure up someone able to influence people, places and events, someone who has the capability to look at situations from multiple angles and come to a good conclusion. Leaders don't always make the correct decision, but they are willing to make a decision, especially in stressful situations.

Over the years, I have met people who liked being called leaders, but I wouldn't allow them to lead me across the street, let alone in a serious decision-making situation.

Often, they can be pushy, demanding and downright disrespectful to co-workers, teammates and, yes, even constituents. They tend to draw conclusions based on stereotypes and unfounded expectations.

I will never forget the project manager who said, some 20 years ago, that I was "surprisingly articulate." These types of folks work harder at finding fault in others than at finding assets to uplift them.

Then again, I have met people through my years whom I would follow to the end of the earth because they worked harder at being servants than they did anything else. They give credit for a job well done, coach when the work isn't where it should be, and are an optimistic and positive influence on the people around them. Good leaders always work to find the good in people and try to shed light on what makes them great.

I have had people refer to me as a leader, but as I am wrapping up my fourth decade on this planet, I'm still coming to terms with what that means because I feel there is still too much to learn.

Some people believe leaders are born, but I tend to lean toward the notion that good leaders can be made. I think about Michael Jordan, arguably the greatest basketball player in the history of the NBA.

When he came into the league, he could electrify the crowd and light up the scoreboard. But he wasn't winning, especially not championships. He had to learn he couldn't do it all by himself; he needed his teammates to help finish the job.

However, I think the greatest of lessons Jordan would learn, no matter how great he was as a player, was that he had to make the people around him better. In some of those championships, it was John Paxon or Steve Kerr taking the big shot at the end of the game. They were ready to produce because Jordan had shown confidence in their abilities.

What is all this talk about leadership?

I hope it will give you something to think about in your everyday lives. More important, election season is upon us. In just a few months, we will have a primary election. Early voting begins April 10. Already, high-priced commercials are making their way to my TV screen. As you start to learn about the candidates, listen to how they speak about the issues, listen to how they speak about themselves, and listen to how they speak of their constituents and opponents.

Are they running for office because of their surname, or do they want to be a servant for the people? Are they working to improve the lives of Hoosier families or just their family? Are they only finding fault in other people or are they working to uplift those around them?

As you begin to make your decisions, I hope the folks asking for your vote meet your standards of what leadership should look like.•


Click here for more Forefront columns.

__________

Black is deputy chairwoman for engagement for the Indiana Democratic Party and a former candidate for the Indiana House. Send comments to ibjedit@ibj.com.