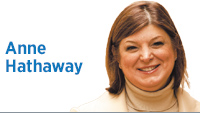 In case you missed it, March is Women's History Month. While I love history, I think it's important to take stock of where we are today and consider the potential for the future. Melissa Marchonna, digital marketer for the New York Jets, put things into perspective for me when she said, "Teach your daughters to worry less about fitting into glass slippers and more about shattering glass ceilings."
While we have made progress, we still have a long way to go. Many of the women I know aren't trying to fit into the proverbial glass slipper, and they aren't marching or pounding on their chests nor on board tables demanding attention.
They aren't talking; they are doing! They are leading by example. They are going out and getting things done. They are opening their own businesses. They are running for office. They are making themselves so valuable with their talent, their vision and their experience that they not only have to be in the room, they have to be at the table and often at the head of the table creating the plan, developing the strategy and managing the team.
Women account for more than 50 percent of the U.S. population and, according to Diversity Inc., more females are receiving bachelor's and master's degrees than their male counterparts. Nationally, 15 percent of executive positions are filled by women, and the U.S. Small Business Administration stats show that 37.1 percent of women are self-employed. Over a 20-year span, 1997-2017, the National Association of Women Business Owners reported 114 percent growth in women-owned businesses, with nearly 9 million employees that generated more than $1.7 trillion in revenue.
While this is not fast enough for impatient women like myself, 114 percent growth is pretty darn impressive, and the glass ceiling has been cracked. The real opportunity is for our daughters to shatter the glass ceiling for women-owned businesses and do so at a more rapid rate.
And in politics, the glass ceiling is even higher and the opportunities for our daughters even greater. Per the Center for American Women in Politics, since 1964, in presidential-year elections, women voters are the majority of the electorate. Unfortunately, the number of elected women does not reflect the strength of the women's vote in presidential election years. Only 106 of the 535 seats in Congress (19.8 percent) are held by women. There are six female governors (12 percent), 12 lieutenant governors (28 percent), and 53 of 219 other statewide officials (24 percent). Women hold 1,871 state legislative seats across the country (25.3 percent).
In Indiana, we can take some pride in electing women leaders. Two of our nine members of Congress are women and five of our seven statewide elected officials are women. Where we have work to do is at the state legislative level. Currently, there are 30 women in our Legislature—only 20 percent. This year, 59 women have filed to run for the Legislature, so it's very possible more women will serve in the Indiana General Assembly next year.
The glass slipper keeps getting tighter and the glass ceiling keeps getting lower. Cracks are evident, whether it be business or politics. Let's make sure we continue to nurture an environment for women to be successful in whatever profession they choose. Let's make sure our daughters eliminate ceilings altogether.•
Click here for more Forefront columns.
__________
Hathaway is president and CEO of Hathaway Strategies, chairwoman of the Julian Center board and former chief of staff of the Republican National Committee. Send comments to [email protected]
Please enable JavaScript to view this content.