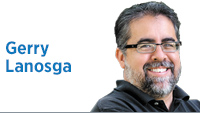 The May primary elections are fast approaching, and that means political-debate season is in full bloom.

I am president of the Indiana Debate Commission, a not-for-profit that organizes candidate debates for statewide political offices. The IDC has been around since 2007, conducting 18 gubernatorial and U.S. Senate debates so far.

All our events have been carried by television and radio stations statewide, and in more recent years, they've also been live-streamed online by many other news organizations. Often, they have been broadcast nationally by C-SPAN. All that adds up to viewing by millions of Hoosier citizens.

In other words, this is not our first rodeo.

Recently, however, the commission has come under a bit of fire. U.S. Rep. Todd Rokita, one of three Republican candidates for U.S. Senate, declined to participate in the IDC's scheduled April 30 primary debate, the first candidate ever to do so. Rokita announced he would participate only in debates put on by conservative Republican organizations.

The Rokita campaign said it was not interested in "gotcha questions from liberal media figures, liberal college professors, or other parties interested in attacking Republicans." It also noted the commission has no legal role and that the April 30 debate will be broadcast on public television (Rokita wants to eliminate public-broadcast funding).

The commission is disappointed in Rokita's decision, but it's up to the candidates themselves to spar about this and the other issues in the race.

However, this is a good time to talk about the IDC and how it works.

It is true that the commission is not official in the sense of being established by state law. However, we came into existence because of a strong desire by both news media and candidates for an independent debate entity. After months of conversations with all stakeholders, the IDC was born as a coalition reflecting all statewide media as well as key public interest groups.

The commission does have legal status as a 501(c)(3) not-for-profit, and we raise both cash and in-kind contributions to pay for our debates. Statewide broadcasts are expensive, but voters in statewide contests are not well-served by debates that are aired or covered only in limited corners of Indiana. So we front the costs to provide our satellite feed free to all media as part of our mission of "putting voters first." Our debates are carried by not just public media, but also dozens of commercial broadcast stations and newspapers.

Also in keeping with our mission, questions for the candidates come mostly from the Hoosier voting public. We will begin soliciting them online later this month. Questions are screened by the IDC board, and some individuals are invited to ask their questions live during the debates. Our moderators have some flexibility to ask follow-ups and redirect the conversation, but all the main questions are screened and approved, with only the commission and moderator knowing them in advance.

Finally, it's important to reiterate that the commission is a nonpartisan public-interest organization. Of course, individual board members have personal opinions, and we've even had opinion writers (from opposite sides of the political spectrum) on our board. But the commission itself operates in a strictly nonpartisan fashion in the interest of producing independent, citizen-focused debates to help support democratic governance.

We will continue to invite all candidates on statewide ballots to our debates. And we invite citizens to participate by submitting questions and tuning in to watch—and then vote.•

Click here for more Forefront columns.


__________

Lanosga, a former reporter, is a journalism professor at Indiana University and president of the Indiana Debate Commission. Send comments to ibjedit@ibj.com.