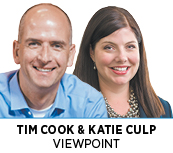 It's customary at the end of every legislative session to proclaim winners and losers. But it's equally important to take a step back from the individual highs and lows of specific bills that passed or didn't pass, to assess the bigger picture. Specifically, what message are we sending about our state to the rest of the world?
For many years, the Legislature has been laser-focused on how to make Indiana a business-friendly state. The strides we've made are indisputable. We've eliminated many taxes and reduced the rates of others. Our course-correction on issues such as daylight saving time and right-to-work helped us catch up to other economically progressive states. This session, at the urging of the business community, the Legislature made a radical, tech-friendly change to how sales tax is imposed on software-as-a-service.
It's not just an improved tax climate and forward-thinking Legislature that deserve credit. Gov. Holcomb has carried on the tradition of several past administrations in promoting a pro-business attitude. One sees it in executive-branch policies, in the appointment of private business titans to key government positions, and in the reduction of bureaucracy to make the interactions between businesses and government more efficient.
As national site-selection consultants, we closely follow the actions of every state legislature across the country, and, not one has done more to make its state more business-friendly than Indiana's in the last 15 to 20 years. But there is another constituency that demands attention—one that doesn't vote at the ballot box but does vote through its boards, investors and stockholders. This constituency is the monolith of decision-makers who determine where to locate or expand businesses. The cost of doing business is supremely important. But so is promoting a social culture that appeals to the talent required to make these businesses operate.
What we've found is that, for companies and individuals in the Midwest and those with firsthand experience with Indiana, the impression is overwhelmingly positive. But as one strays farther from the Midwest, Indiana is often an unknown entity. For these individuals, first impressions are based on assumptions, stereotypes and a vague recollection of times Indiana has made national news. Sometimes those perceptions are not positive.
Yes, we're trying to overcome these stereotypes and are making headway. We often hear from fellow pro-business Hoosiers that they are tired of hearing about RFRA and want the topic to go away. A strong argument can be made that Indy's inclusion as an Amazon HQ2 finalist drove a big nail in that coffin. Yet, we're also ending a legislative session where the most-talked-about accomplishments are becoming the last state in the country to end its across-the-board ban of Sunday alcohol sales in stores, maintaining our status as one of five states without hate-crime legislation, and still being one of a minority of states where medicinal marijuana is not available.
These observations are not a call to action for these items or any other so-called social issues, per se. But they are a reminder that the definition of "business-friendly" remains in the eye of the beholder, and the issues we address (or choose not to address) will have a lasting impact.
In other words, creating a pro-business, economically progressive state is like building a baseball stadium in the middle of nowhere: We have to pay attention to the experience in the stadium—not just the game on the field—so we can turn observers into loyal fans.•
__________
Cook is CEO of KSM Location Advisors; Culp is president.
Please enable JavaScript to view this content.